Moderators: jesterKing, stiv
---
---
---
Posts: 0
Joined: Mon Sep 20, 2004 5:05 am
When using auto IK, (i.e. on the last bone in the chain), keyframes seem unable to be set for loc or rotation of the bone. In every other way, the auto IK seems to work, just doesn't allow for keying the bone you manipulate using auto IK.

Greg Smith
---
Posts: 0
Joined: Mon Sep 20, 2004 5:05 am
I also noticed that when using B-Bones and giving the last bone in the chain several segments, along with the other bones in the chain, that, although the bones closer to the root exhibit "bendiness", the last IK constrained bone does not bend much, if at all. As a workaround, you could just make the last bone in the chain very short and not segment it at all.

Greg Smith
---
Hi,

I've noticed that quite often, when I try to go into Weight Paint mode, Blender pops up an error saying 'Mesh octree coding error'. Once, this resulted in one vertex group having all its weights set to the current weight.

Aligorith
---
---
Speaking of bugs, I've noticed you folks have dumbed down the particle panel when I compared it to the other CVS versions. Good fur is still possible, but a little more difficult with that original panel. I like the CVS particle panel better.
I'm not sure if it's a bug or not, which is why I have not submited it.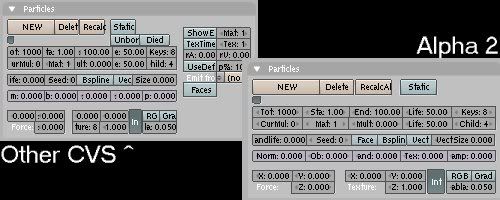 ---
The one you quote as "other CVS" is not actually in CVS. It's a separate patch that individual builders may have applied. Ton is looking at integrating it properly into the main tree at the moment.
---