Hello everybody
I am sorry for the lack of updates, unfortunately I am just getting back into blender development after some thesis and (time wasting) UT2003 gameplaying...
Anyway, right now the Texture effect compiles, and runs however I am getting all zeros for the output instead of a nice looking intensity map of what I would expect it to look like. I can also render the scene using the texture, however as above there is no visible difference, I will have to look into this further.
I have done some basic GUI updates: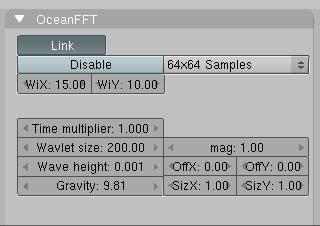 You can see the addition on the 'Linked' button, this it to allow blenders texture code to source the data from a linked Object that has an OceanFFT mesh effect attached to it, This crashes blender in its current implementation, so this to will need to be looked at.
Kind Regards
Simon Harvey