This article is part of a series celebrating the 20 years of Blender as a free and open-source software, edited by Blender producer Fiona Cohen and first published alongside the Blender Foundation Annual Report 2022.
---
About the author

Fiona Cohen is an animation producer and project supervisor from France. During her 7 years of working with producers and studios to make animated short films, series and feature films, she discovered Blender at Autour de Minuit in 2018. Then started a journey of curiosity and learning, diving more and more into the Blender technology and its community. She visited Amsterdam in October 2022 for the Blender Conference and got to experience the full power and thrill of the project.

In February 2023, she joined Blender Studio as a producer, managing movies, editing the Studio website and taking care of Blender-global tasks like the writing and editing of The Blender Foundation Report 2022.
What have we achieved in twenty years? What impact did Blender really have on people, the animation industry or the software world?
Keeping in mind that honest feedback will always make us grow stronger, Ton wanted to interview people outside the organization, all with different perspectives and relationships with Blender. People who played a role in Blender's past, for some, and who also have an independent business so they can share their outsider's point of view as well.
We reached out to them explaining that those conversations were not meant to be a promotion piece, we encouraged honesty and distinct viewpoints or recommendations.
For those who worked with Blender and Ton, I poked their memory to better grasp what the project had been, at the beginning. How was it perceived then? And since, what do they think of our track record? Can they point out strategy errors? Is Blender still relevant in their eyes?
And above all: what about the next twenty years?
Through all four different points of view, a clear consensus emerged: for people who have followed the project or known Ton for a long time, Blender is above all a great tool linked to great memories. Times at the BCON, meeting passionate people, the amazing community, or times working on a project, be it a crappy experiment or an award-winning feature, with all the possibilities the software can offer. The fun. The joy. The freedom.
Thus, I wish to present those four conversations as a way to recognize past accomplishments and stories that have shaped Blender into what it is today. And next to this, take the opportunity to look into what lies ahead.
To the next chapters!
The interviewees' words have been edited for clarity. This conversation was held in French and has been translated into English during writing.
---
Nicolas Schmerkin, daring to create
Nicolas Schmerkin is a French award-winning producer. Founder of the independent production company Autour de Minuit in 2001, he then created the animation studios ADV Studio (2011, Paris) and Borderline Films (2014, Angoulême). Known for impertinent, quirky and experimental movies, his company has produced around 100 short films, 5 series, 7 TV Specials and recently released its first feature film, Unicorn Wars – most of them using Blender, since its introduction in their pipeline in 2008.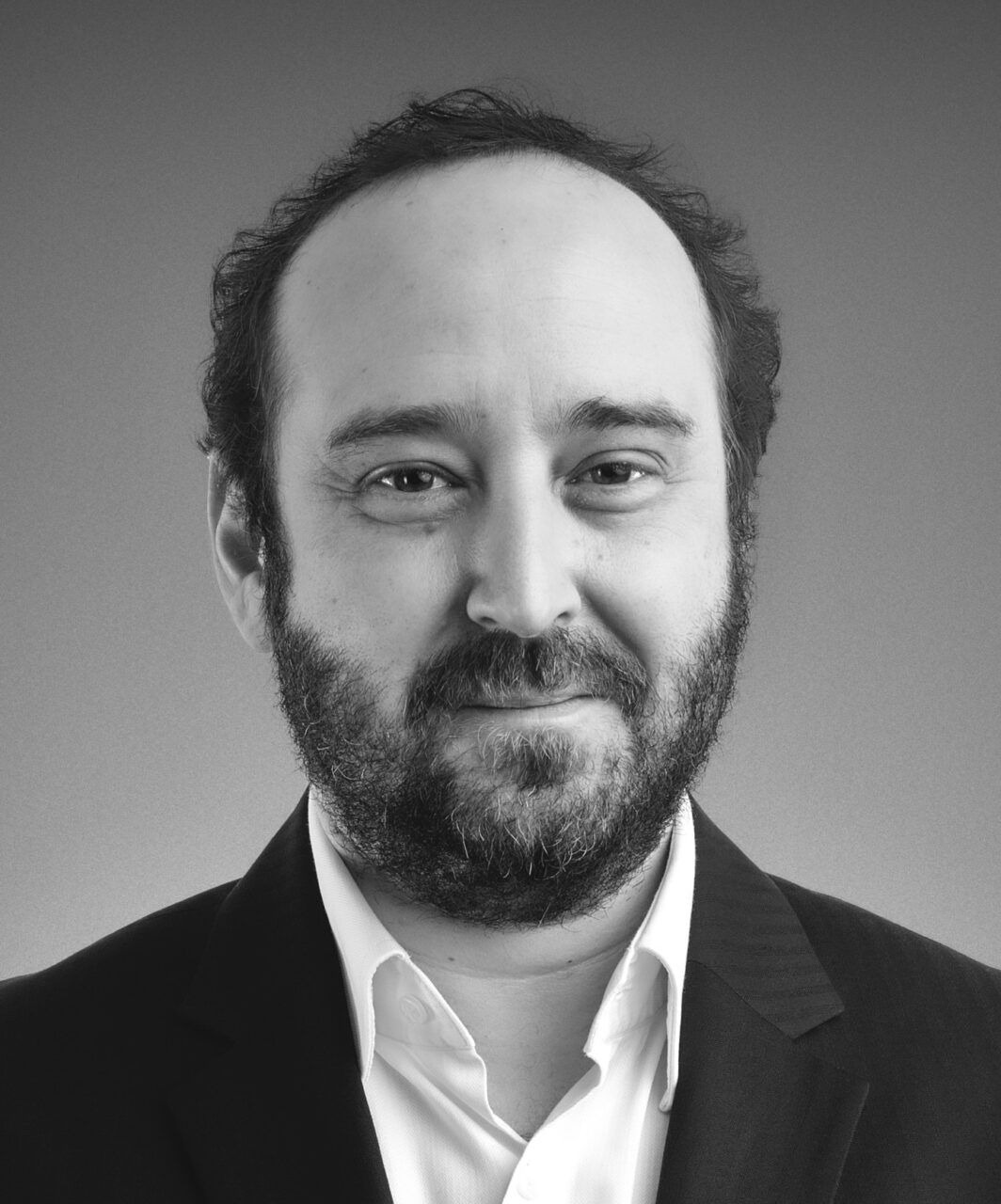 I should mention right from the top that I worked at Autour de Minuit for four years and thus know Nicolas quite well – it is through working alongside him that I met open-source enthusiasts, discovered Blender and, well, ended up writing this article. Having seen first hand how much Blender contributes to the projects Autour de Minuit produces, it only made sense to dig into the history between the two.
It must have been 2007, when Autour de Minuit (ADM, for short) was still a small experimental lab for filmmakers. Mathieu Auvray, mostly known in the Blender community as the director of Cosmos Laundromat, is the first to mention Blender to Nicolas. He was then a champion of After Effects, the compositing tool of the Adobe suite, but he wanted to go into CG and was inspired by a short, Meischeid, directed by Chilly Gonzalez – where music and effects come together in a poetic way.
It's not until 2009 that this interest for Blender turned into something tangible, on the pilot episode for Babioles: "It was really a director's choice, and he managed to convince other After Effects 'bidouilleurs' [DYIers who like to experiment] to join and give it a try". Manu Rais, one of those new converts, then stayed and became the pipeline supervisor of the studio for almost 10 years, later joining Blender-based French studio TNZPV as their CTO. At the time though, Autour de Minuit may well have been the only studio in France to use the open-source software. "It was only beginners, we lacked skills in rigging, in animation, no one worked on Blender back then. We had to hire people who were not animation professionals, based all over France, who had learned Blender for fun."
Still, for Nicolas this choice to try a new software didn't really pose a question. As a non-technical person, he was mostly curious because of the experimental and explorative appeal. It was exciting to get out of the big business loop and, although it might be tempting to think of the open-source software as one less line in the budget, the logistics proved to be complicated: "Despite what it may seem, it wasn't a money-driven decision, we had to train so many people on our own."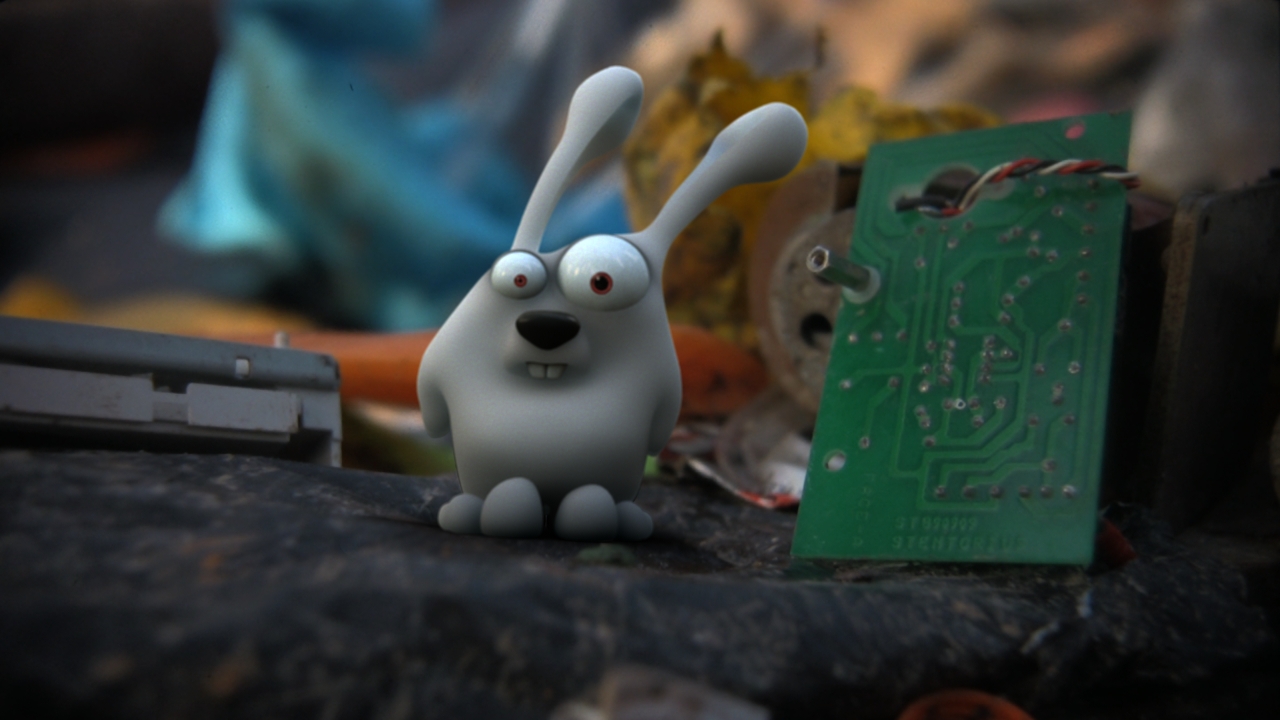 What made the production company stick to Blender, then? As the projects added and the studio grew, the need for skilled professionals grew too. "After Babioles we did the first short-film for Jean-Michel, the first fully-made CG film in Blender, then a short called Francis, then the first projects around the platypus No-No. Still with Mathieu, still using Blender." And in 2012, when the series for Babioles went into production, the Blender seed had grown into a bigger, fuller and more diverse community. Patience proved to be key! With small projects, shorts and small series, Autour de Minuit built its network of Blender people, which then evolved and grew as the projects grew bigger, until the 52 episodes of No-No, the series, were entirely made on Blender in 2017-2018. "We even managed to get our service provider for animation, TeamTo, to work on Blender". Nicolas recalls feeling a great sense of pride back then, being the first ones to do so: convince a big studio to adopt their pipeline, and making all of this volume of animation 100% in Blender.
After a few years of hearing the name on a regular basis, Nicolas grew familiar with the Blender ecosystem and its founder. "I can remember meeting Ton and discussing render farms. At the time the Institute people were using some red Ikea metal drawers to host their farm, so we did the same, built it ourselves too. With Blender we even found inspiration for the hardware!" he jokes. Though, from the start, Mathieu had brought a plethora of information with the DVDs and manuals. Also, Ton's idea of using the production of short films to develop specific features had already been noticed by the team at ADM. This was unique and inspiring.
When I talked with Nicolas, what stood out to me was how much this was a story about people, again. As a producer, technology is one tool, it could be many other ways. However with Blender it led the ADM founder to meet key people he's kept close with for many years, people who shaped the studio as much as Blender shaped their view of the animation industry.
On the critically-acclaimed short Peripheria, Christophe Seux joined the team and filled a key position that they had been struggling with: rigging. As it turned out, in 2014 there were only a couple of people in France who could call themselves competent Blender riggers. A collaboration that proved fruitful in more than one way: for the No-No series, Christophe did all the setups for the characters but then had to leave for another project – no negative feedback came from TeamTo, which animated all 52 episodes of 7 min each – more than six hours of animation without an issue on the rig (or at least, functional enough for the teams to deliver), a rarity in the industry; years later, the same Christophe created the cornerstone tool to transform Unicorn Wars into a fully 2D-looking film. Today he is still one of the key supervisors and developers at ADM, while participating in other productions. He would hate me for saying this, but he is one of the most well-known Blender technicians in France, having worked on multiple features, shaping entire pipelines with his expertise and specific eye for pipeline design. I have been around enough studios to know it's not far from the truth, at all.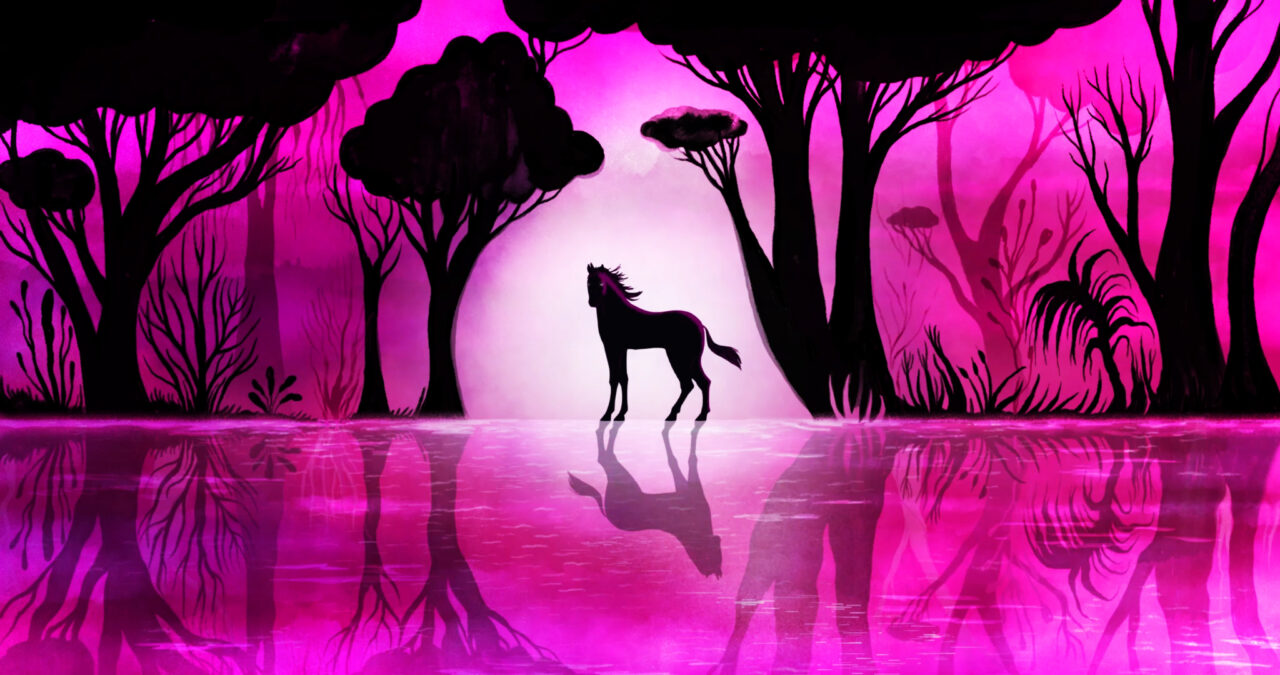 Because Blender was part of the Autour de Minuit DNA, people stuck around, people who had a taste for experimental or odd projects, people who had the desire to be part of this gigantic community of developers and artists. Because Blender is lighter on the ADM pipeline, some short films were made possible thanks to it. Projects that then gave voice to international artists and directors, from countries where there is less money for cinema – like Argentina, Chile or Czech Republic. Another story about people, the opportunities Blender created, and, dare I say, the Freedom to Create. At least, that's what I see from my corner of the narrative.
I'm pretty sure that Nicolas Schmerkin, as strong-minded as he can be seen on the producing scene, would have done many of the projects he did with or without Blender. He is tenacious. However, having the right tool put a lot of grease in the gears of his studios, and it also allowed him to distinguish himself furthermore and sharpen his tongue. In 2014, he recalls "starting to raise my voice at the animation schools during a conference, to push them to teach Blender. I became an advocate for Blender, unintendedly." Almost a political posture, in a conservative industry. People were surprised that such a software could be used professionally, and even though they were starting to recognize the open-source name, no training really existed: "the CNC [French Center for the Cinema] didn't listen back then". When Adobe and likes started to raise their fees and change to a monthly-subscription model, more studios started to listen though. But it took years for schools to start incorporating Blender into their curriculum, and it is still a work in progress. "The only issue I can recall, really, is when others [studios, people] don't want to work on [Blender]. When you're splitting the work, for instance." There's also the obvious issue of the software not being production-ready or the projects straining its possibilities, like on Peripheria: "We had to work on Photoshop because Grease Pencil wasn't even an alternative yet." The team may remember the project as a very hard one to make, although the producer adds "I've almost never heard people doing one project with it and complaining afterwards; rather the opposite."
Working in an industry always looking for innovation although often reluctant to alternative models, what has been Blender's impact on cinema? "Blender is made for the users, by the users and yes, it had a real impact on independent cinema: I Lost my Body [directed by Jérémy Clapin, winner of the Annecy Cristal, two Césars and going all the way to the Academy Awards], Flow [directed by Gints Zilbalodis, currently in production], they were all possible thanks to Blender. It opens the door to experimental cinema, and it may even allow the junction from short to feature film." Not just that, but I know first-hand how high Nicolas' expectations are: "With ADM we've always ambitioned to make beautiful images, even for kids' shows. Blender allowed us to do it, for a lesser cost." In that sense, studios using Blender both pushed for a more mature cinema, as well as tried to elevate the artistic ambitions of a genre too often abandoned (cartoons for kids).
Today, Nicolas wishes we wouldn't see studios using Blender as revolutionary. For many years now, the software has shown it can handle producing high-quality content. "One thing remains to be seen though; could Blender handle a big 2D series? With puppet rigs? There's a big push to do in that direction, so that it can get to the same level as its 3D side and other 2D softwares". A wish that should be fulfilled in the next couple of years as the Grease Pencil tool is getting a makeover, with first a full rewrite to make it ready for the array of features 2D artists have been dreaming of.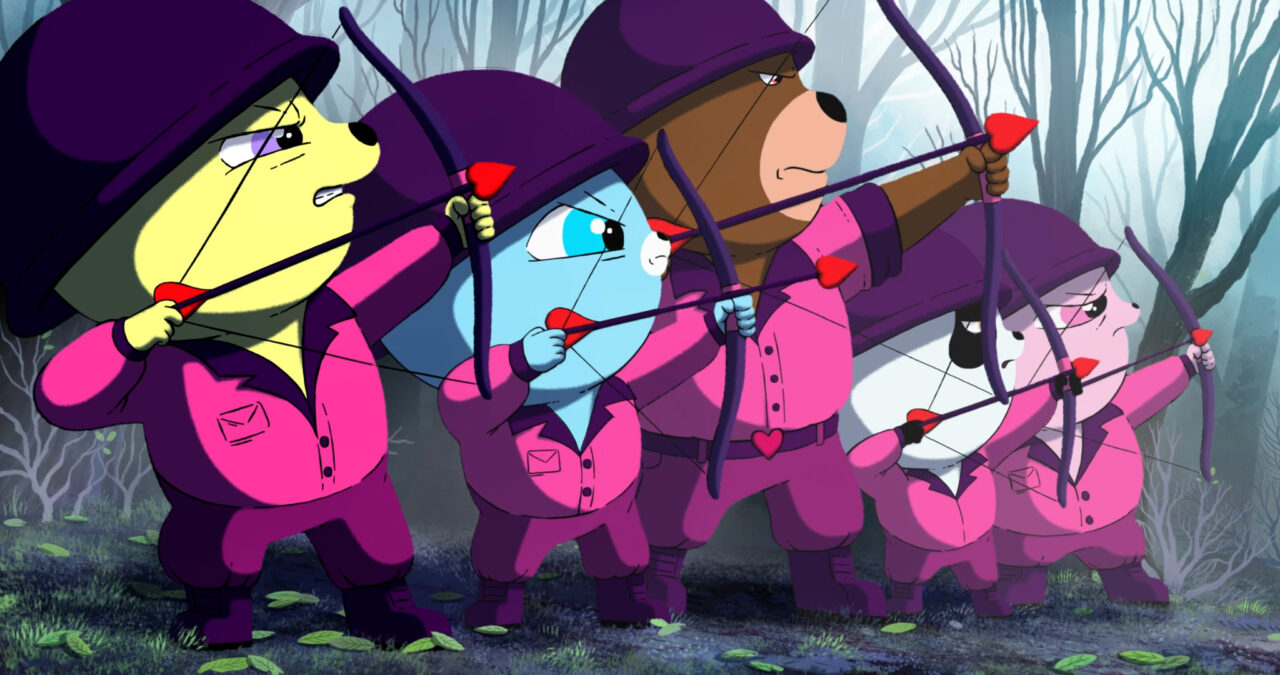 What about further away in the future? "The AI thing can be scary, even polarizing in the industry. We already see that in the grant application process, in the committees." The French producer doesn't really believe AI would be a good direction, and neither the AR/VR one: "Only a few projects use that, however the real time side would be interesting." Nicolas confesses again that he is not the best placed person to talk about the technical side of Blender. "Above all, I wish it remains independent, and that the Blender Studio keeps on producing movies. Maybe also, I don't know if that already exists, to have more official means of sharing the development updates from the different studios [using Blender]." And, as my former colleague Mario Hawat proclaimed in our talk during the BCON23, the 'Holy Grail': everything in Blender. "One software can really do it all. We need to fill the gaps and improve what still isn't optimal. Editing the film, pre-editing the sound?"
It was quite interesting to dig into that side of Nicolas' memory and vision. Over the years, I became more and more interested in Blender, working on building innovative pipelines and defining new tools; the endless possibilities were mesmerizing. Through this interview, I understood something I didn't before: Nicolas' seemingly lack of interest in the technical side of the projects, the lack of investment sometimes, had been disappointing for me. I now realize I may not have been there when Autour de Minuit invested the most into Blender. Maybe it wasn't what I had in mind, however it is thanks to producers like Schmerkin that directors and artists alike can take a chance on a new tool, experiment, try, fail, create their own challenge. You need a bit of distance from the details to agree to such a crazy and scary gamble. To dive into a process that no one has done before. To pitch and promise movies to the world, when you don't even know how you'll make them come to life, yet.
It takes passionate and stubborn people to believe that technology and art will align, that the right people will come along to make it all take shape. In a sense, this is where Blender and independent cinema share a striking resemblance: people truly shape the project.