By Arnaud Mellinger and Maxime Roux, CG Supervisor and Motion Designer at Gentilhomme – Montréal
How can we interact with a growing flow of passengers and occupy a large, brand new space, while celebrating the legacy of a history-rich city? All the while not distracting from the information that people need?
That's the challenge the team faced when our company, Montreal-based multimedia studio Gentilhomme, was approached by the Nashville International Airport.
As a company that specializes in creating interactive installations and immersive experiences for public entertainment, what could be more exciting than creating content for two gigantic canvases in a public space?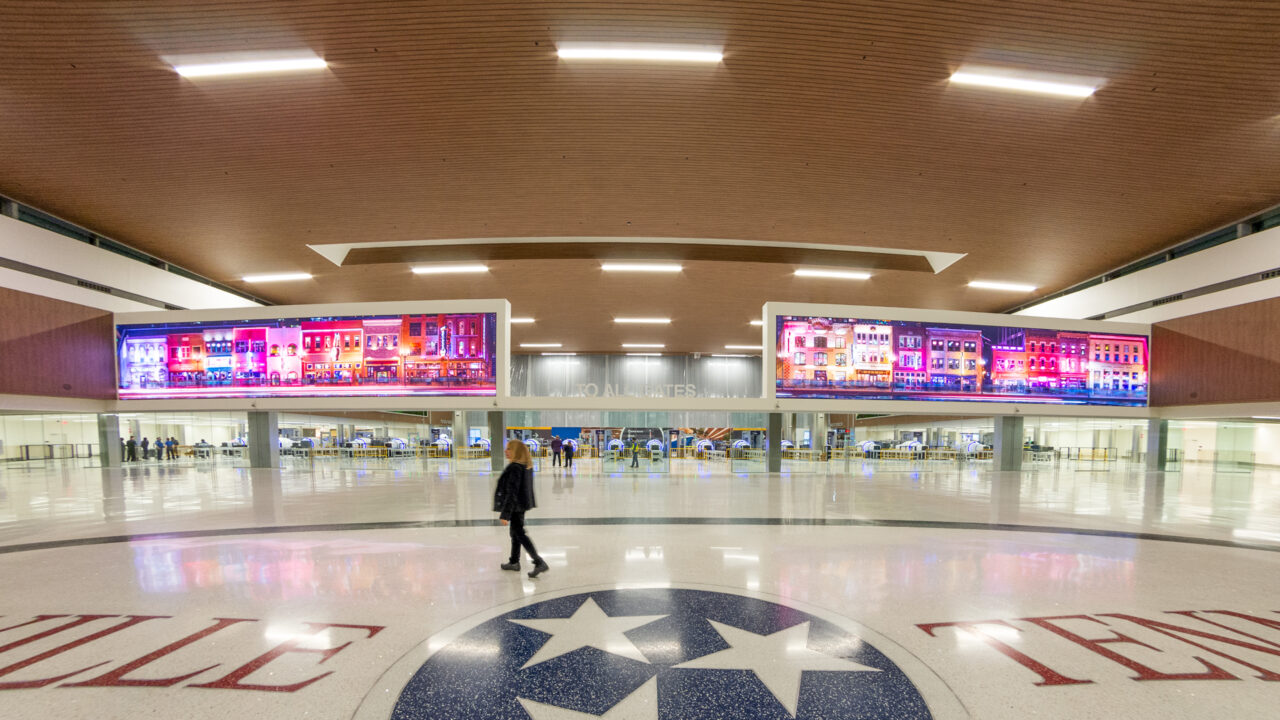 Set in a brand new terminal in the airport, the Grand Lobby is designed to welcome the growing flow of passengers in the region, with a combination of two gigantic screens of two millimeters LED that takes up the entire space in front of the security zone. At a scale that's larger than life, each screen is 21 meters long, 4.5 meters tall and has a resolution of 11200 by 2160 pixels.
This posed both a creative and, obviously, technical challenge. That is where Blender comes into play: thanks to the Geometry Nodes innovation, our team was able to create diverse and visually stunning capsules.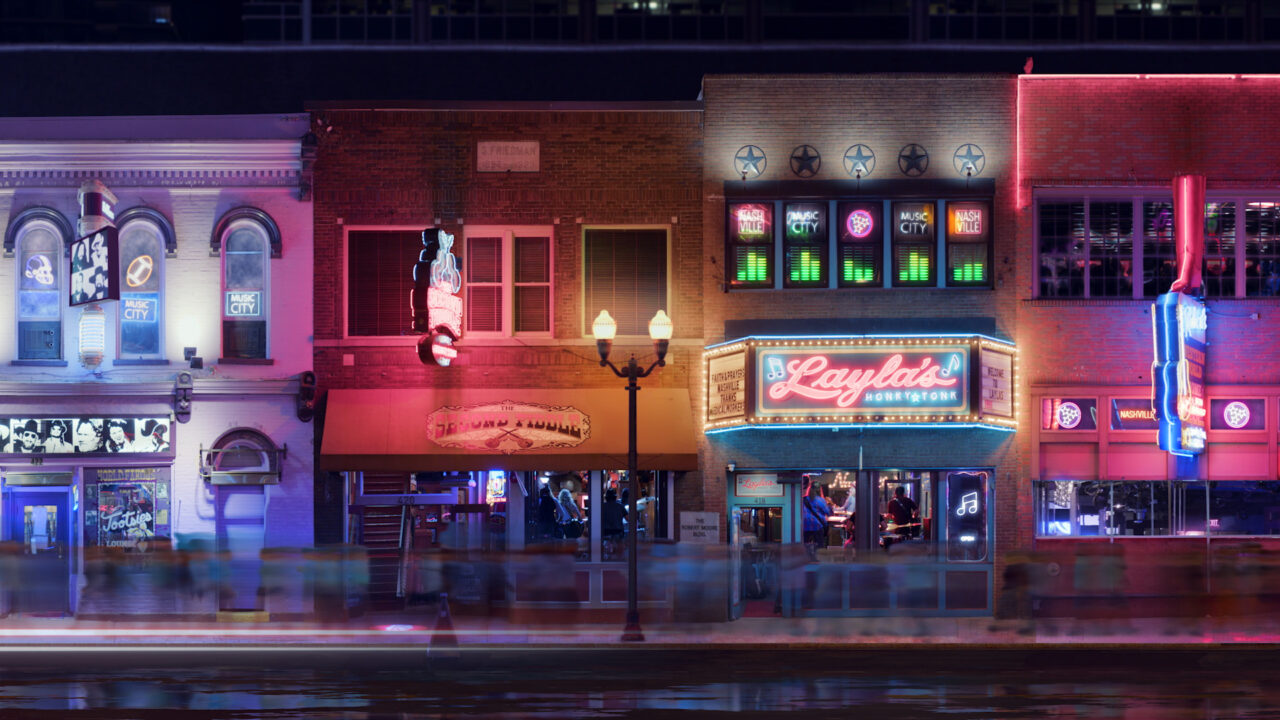 Blender as a Motion Design Tool
To represent Nashville's iconic features, we produced more than 40 minutes of video, spread through 13 segments that are scheduled to be seen all day at the airport, while leaving some space for the passengers' information to be displayed. Among these, 6 capsules were 100% CGI made using Blender, in a mix motion graphics visuals, simulations and classic 3D rigged and animations.
For the CGI segments, we established two categories:
Traditional CGI video, involving rigging, animation and simulation;
Motion design capsules, that involve ambient animation and a Motion graphic (MoGraph) system
Our team at Gentilhomme is composed of artists that are well versed with software specialized in motion graphics such as Cinema 4D and SideFX Houdini™. However, 2022 changed everything with the release (and ever-coming updates) of Geometry Nodes in Blender 3.0. This pushed us to tap into Blender as much as possible within our production process.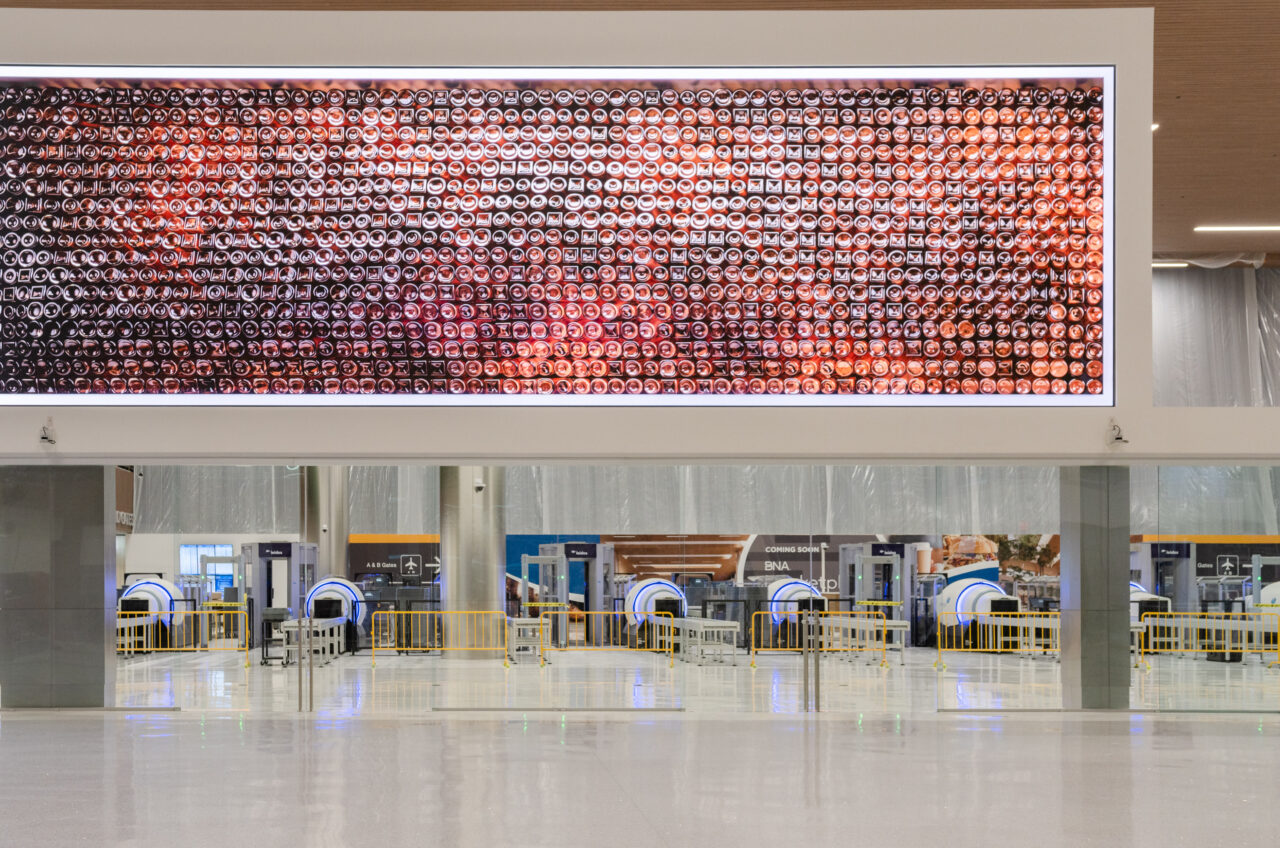 For two of the capsules, we wanted to make a tribute to Nashville's legacy of country artists and its well known whisky distillation process. Enter our Kinetic series: we created a fake structure that is made entirely of either gold and platinum vinyl and whisky bottles.
Built and rendered entirely in Blender, those two videos rely on a rather simple Geometry Node system based on a grid distribution. Whisky bottles are instanced on a plane that is displaced by a texture and vinyl is instanced on a grid with a texture driving their rotation and height. These two look-alike systems give us the feeling of something organic (the displaced plane) or ultra mechanical (the vinyl wall).
To allow more control over these animations and to iterate more freely with the Multimedia Director on the project, Amelie Petit-Jean, we created the textures directly in After Effects and applied them in the Geo Node settings as the source of displacement or rotation. This gives us the ability to not rely only on noise and randomness, but to bake these animated values.
We then rendered everything in Cycles using multipasses EXR in 16 or 32 bit to shift all later modifications of color and lights in After Effects.
Blender as a collaborative tool
Another simple video capsule is called Neons. It's a callback to the vibrant and iconic Broadway Street in Downtown Nashville, for which we created a light show using our own custom neon signs. The collection of 18 colorful neon signs were all designed and animated by Gentilhomme, and feature mementos like "see you soon" and "ready for departure" as a goodbye to departing passengers, already planning their next trip back to the Music City.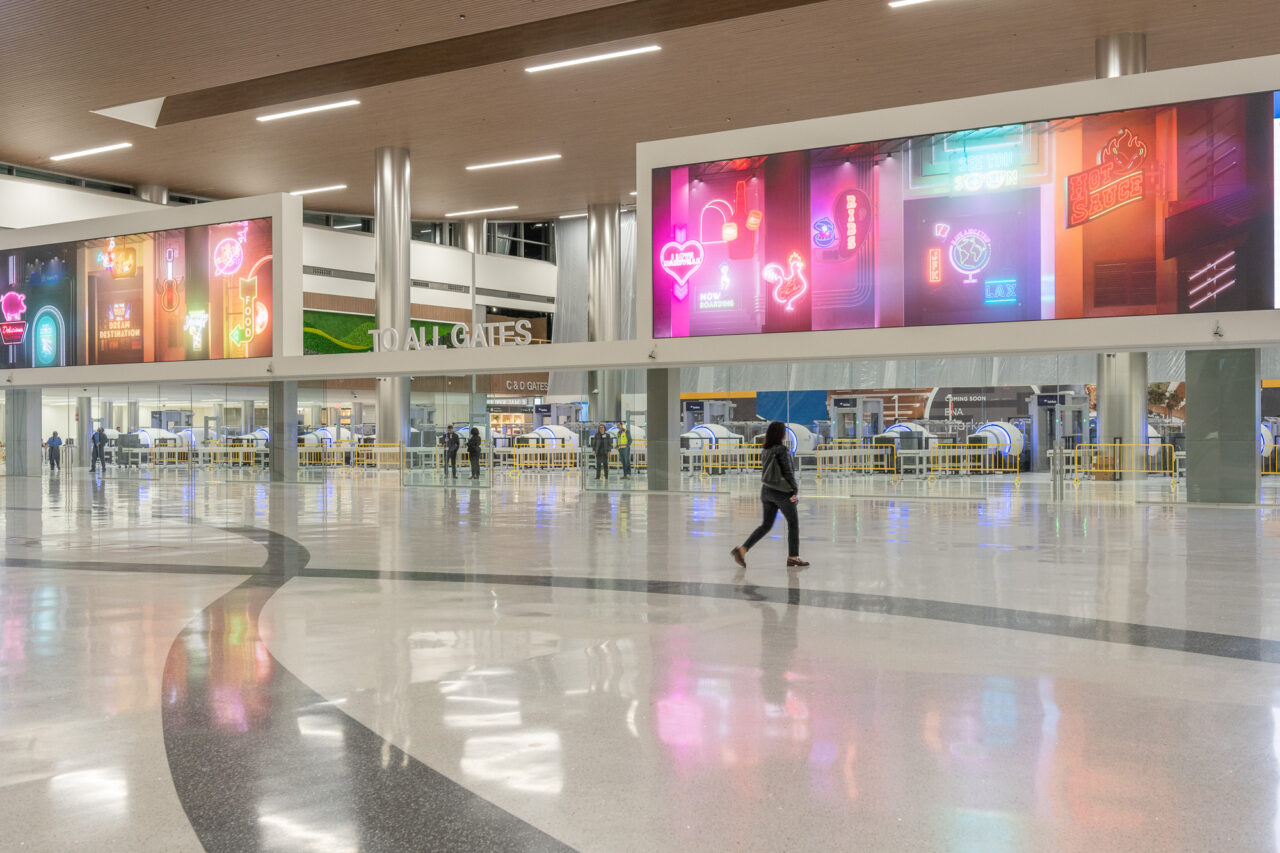 We created the first iteration of the neon signage designs in Adobe Illustrator, then brought the neon artline in SideFX Houdini™ and all the other designs (background plate, details) into Blender.

While Maxime was creating the layout of the scene, our 3D artist Miriam Diana Pelletier created one asset library item per neon by combining the Houdini tubes with her 3D modeling of the details. This process made it easier for Maxime to keep working on the global file, without blocking any modifications on Miriam's side.
Once that was all setup, Maxime turned on each neon sign, one by one, and rendered these frames as an image sequence. He then combined and time remapped everything in After Effects to create the final light show.
This provides us with the ability to quickly retime the light show itself in post-production, rather than having to go back to the 3D phase too late in the process. We build our files this way because nothing we see on our computer screens is going to look exactly the same when we arrive on site. So we try, from the ground up, to create a process where the easiest modification (i.e. the intensity of a light, or when it's turned on or off) should not require a 3D render, but a comp adjustment.
Blender as a Teamplayer
As mentioned earlier, a handful of our assets for Neons were built in SideFX Houdini™. For other capsules, including Whisky Distillation, the look and feel comes from designing captivating 3D assets. In this capsule, there is a whimsical mechanical wall full of pipes, gears and various machinery pieces that are animated to depict the various stages of distillation, from grain preparation all the way to aging. In the span of four minutes, the giant machine at work shows us the different steps of whiskey distillation in a realistic yet playful manner.
To create this, we asked Eddie Loukil, an incredible modeler and texture artist, to help us create these. Eddie is a Maya and Substance designer artist, but everything he provided during production was incredibly easy to ingest in Blender. Importing his .obj files and relinking all the 4K UDIM textures he made was fast and painless.
Same goes for the animations and simulation that Étienne Garon-Vincent, our in-house Houdini Specialist and Creative Coder, made for the capsules. Once imported, as is or then loaded in a Geometry Node, the Houdini assets were included in the bigger scene and rendered directly in Cycles.
We also had to use some new VFX tools, like EmberGen, to create smoke simulations to further enhance the scene.
We were open to using anything, as long as the assets could be ingested in Blender and rendered with the same level of quality we had for our previous projects using other DCCs. The ease of combining different inputs from various softwares, with no friction whatsoever, makes Blender the best teammate.
Working around a Blender Pipeline
For our pipeline, we wanted to understand which Blender file rendered which frames to maintain consistency throughout the whole project. In order to do so, we asked our in-house Creative Coders François De Lisle and Étienne Garon-Vincent to create a script that automates our rendering process.
The script is split in two:
GH render makes it easy to create the right folders and name our renders the proper way for each time we create a file. It also gives us quicker access to our Deadline render farm by simply pushing a button to either render locally or on the network.
GH multipass is a second script that automatically creates the render nodes that separate each pass and denoises them, but then combines them again in a new EXR file. Ultimately, it is super useful for us to only have one image sequence at the end of our project to archive.
Now to address the elephant in the room: the visuals start at 7360 x 2160 pixels for each screen, but go up to 11200 x 2160 in some formats. With resolutions and screen sizes being this wide, we have to rely on an in-house render farm of 20 machines, including the one used by the artists during the day. Being able to scale up our render power with Blender was a game changer for our production. Most of the capsules we mention are taking full nights or even several days to render at their final resolution, with the correct amount of sampling and denoising.
Working at that scale, the viewer notices everything. A 2-4 minutes uncut shot doesn't allow for cheating or downplaying detail. With the right settings, we had no issues rendering complex scenes, involving emissive material, reflection and refraction or even highly detailed textures. Despite this, we planned enough time to render. Time was a huge factor in how we planned the rendering schedules.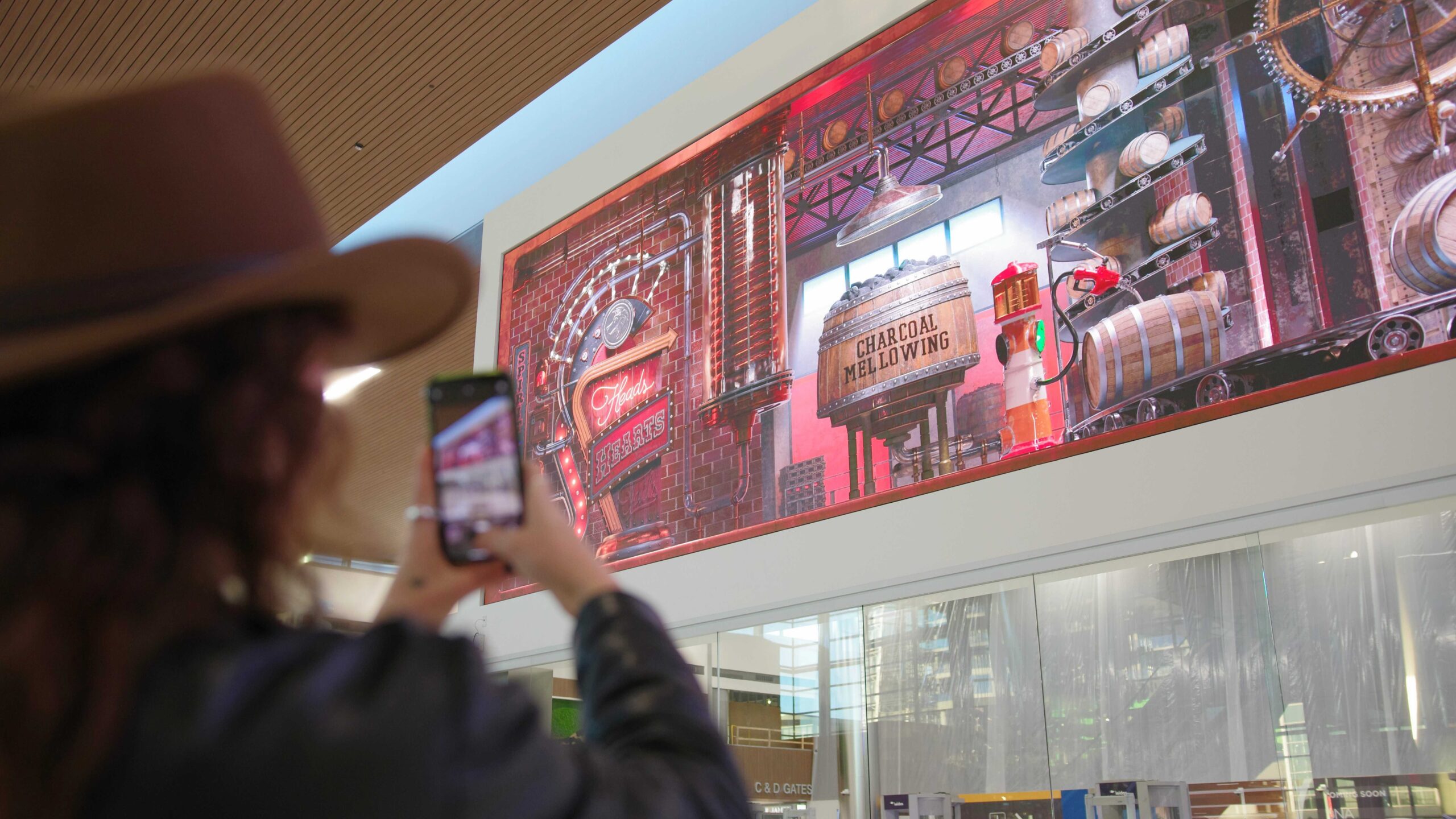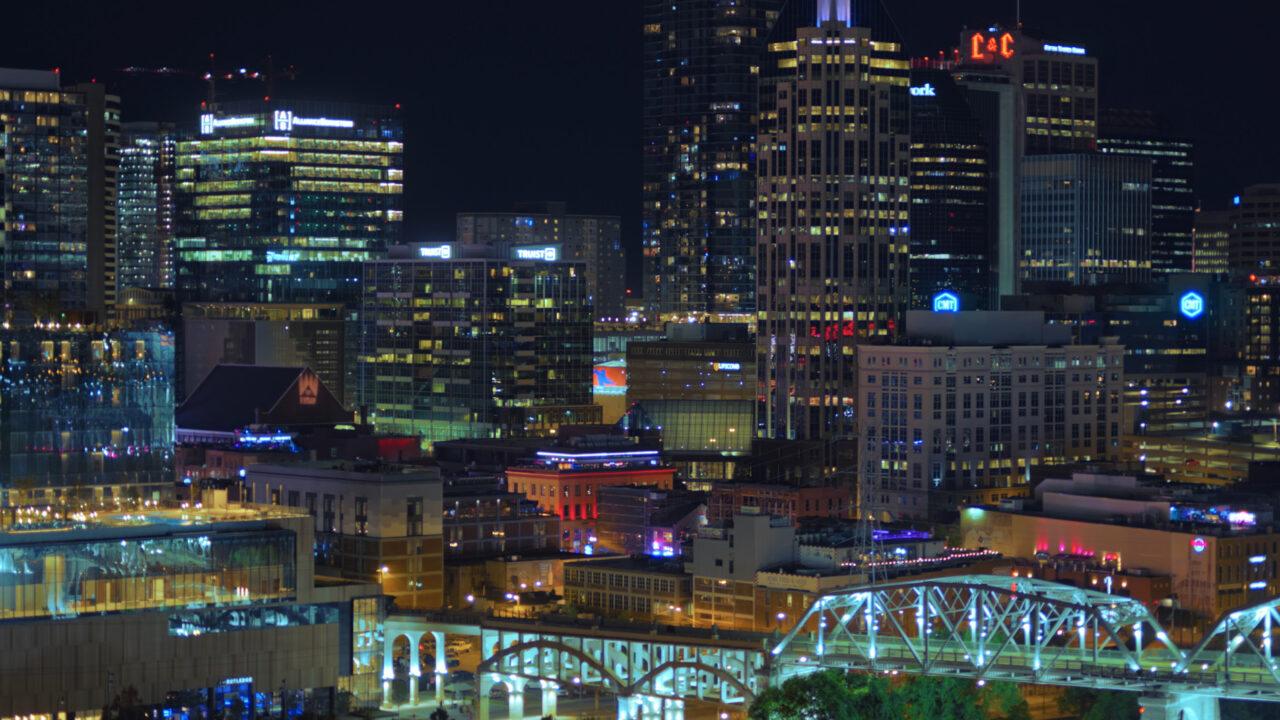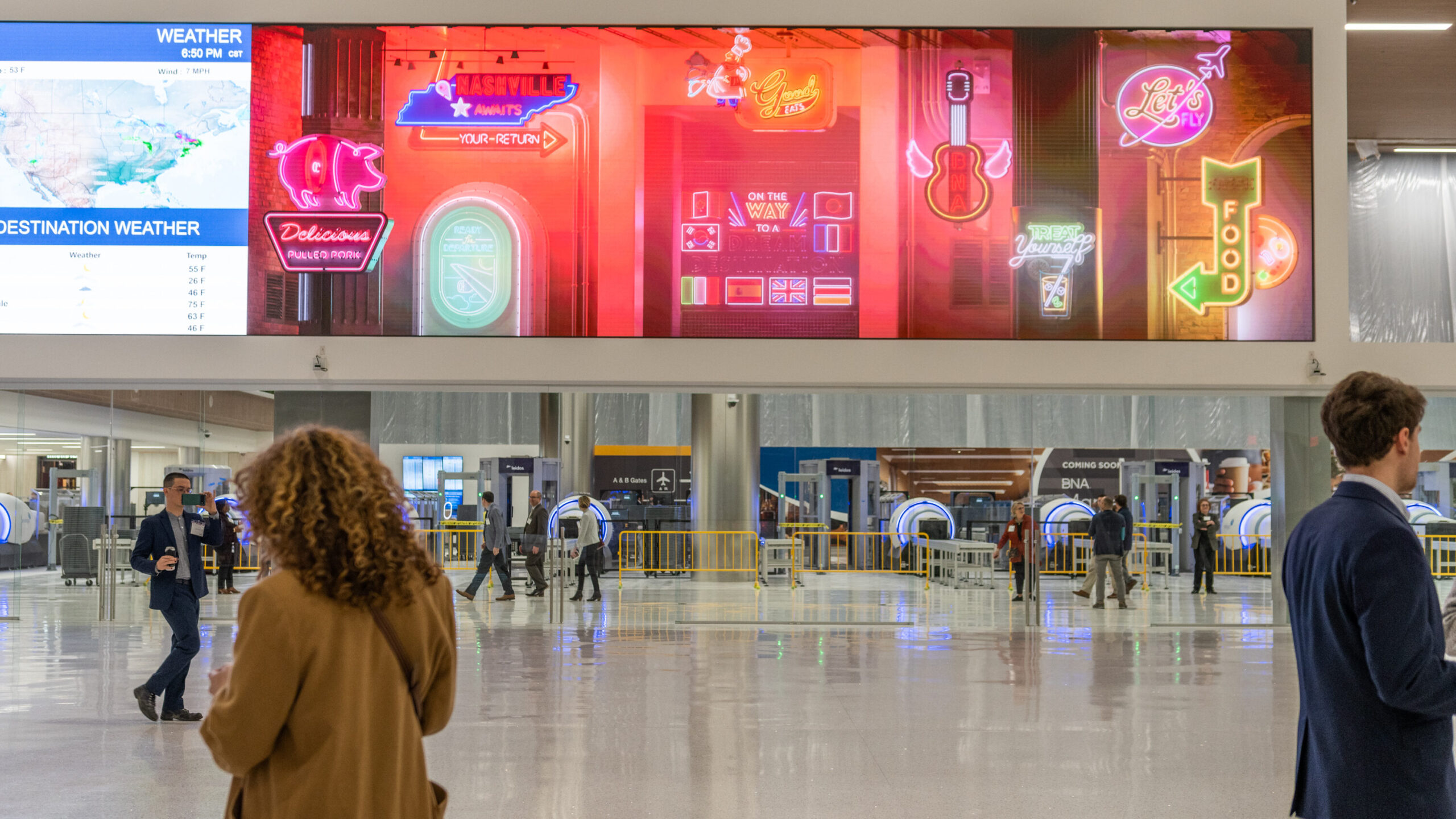 Conclusion
This work, showcasing Blender's strength and versatility, will be the cornerstone of the airport's vision to maintain BNA as a world-class facility and accommodate a record-breaking 23 million expected annual passengers.
We started this mandate with Nashville International Airport knowing that the wide diversity of use cases would be an amazing test. It gave our team the opportunity to see if Blender could be our main 3D software for more complex future projects: we realized that, even if it lacks some dedicated tools when compared to some other industries standards, Blender over delivered in many ways.
Most of our downtime and R&D as 3D artists goes into searching and learning new ways to use Geometry Nodes and complex setups for our next projects. The online Blender community continues to be an amazing, never ending source of inspiration and knowledge sharing. If you are interested in public spaces and interactive experiments, please take a look at our latest work involving Blender, Unreal Engine and more!