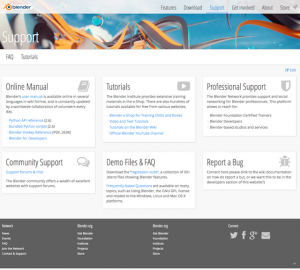 The Blender website has a fresh new look! Thanks to a couple of devoted volunteers we have a totally new back-end with the most important pages migrated already (special thanks to Francesco and Pablo!).
We will work during the next many weeks on finalizing the migration and establishing a new enthusiastic web content team – especially people who know how to write and construct pages to present Blender and our projects to the outside world.
As for now – forgive us if you find any mistakes or missing links here. Check this mailing list if you want to be involved and help with the site:
http://lists.blender.org/mailman/listinfo/bf-webcontent
Blender website key message
Blender is widely regarded as a mature and high quality tool. A surprisingly successful open source project that can compete with the best commercial 3D tools out there. This means our website message can change to reflect that. Instead of explaining how awesome Blender undoubtedly is we now should communicate more who's actually using Blender and what they do with it.
This is the new core message of the site, which we will experiment with to get right – and with which we will need a lot of help !
To summarize, the three key questions this site should answer and clearly communicate:
What is Blender, where can I get it and how to use it?
Who is making Blender and how can I get involved?
Who uses Blender, what do they do with it?
This topic and many more we will further discuss on the webcontent list.
http://lists.blender.org/mailman/listinfo/bf-webcontent
Thanks!
-Ton Roosendaal-