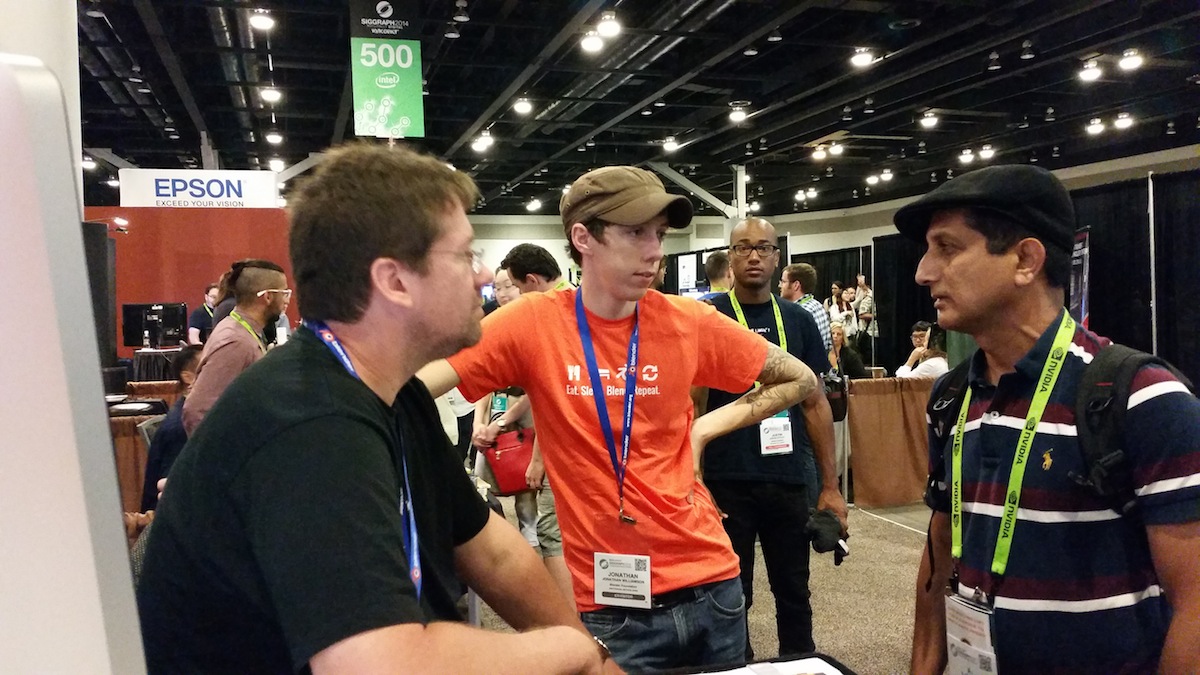 Blender Foundation/Institute has been present at this year's Siggraph again. In beautiful Vancouver we've caught up with many old friends, industry relations and made a lot of new connections.
Birds of a feather
As usual we had a loaded room with 120+ people attending both presentations. Best part I still find is the introduction round, hearing where everyone comes from and what they do with Blender is always cool – including surprising visitors from the (film) industry attending (Like Image Engine, BMW, Digital Tutors).
My presentation slides (pdf) can be downloaded here.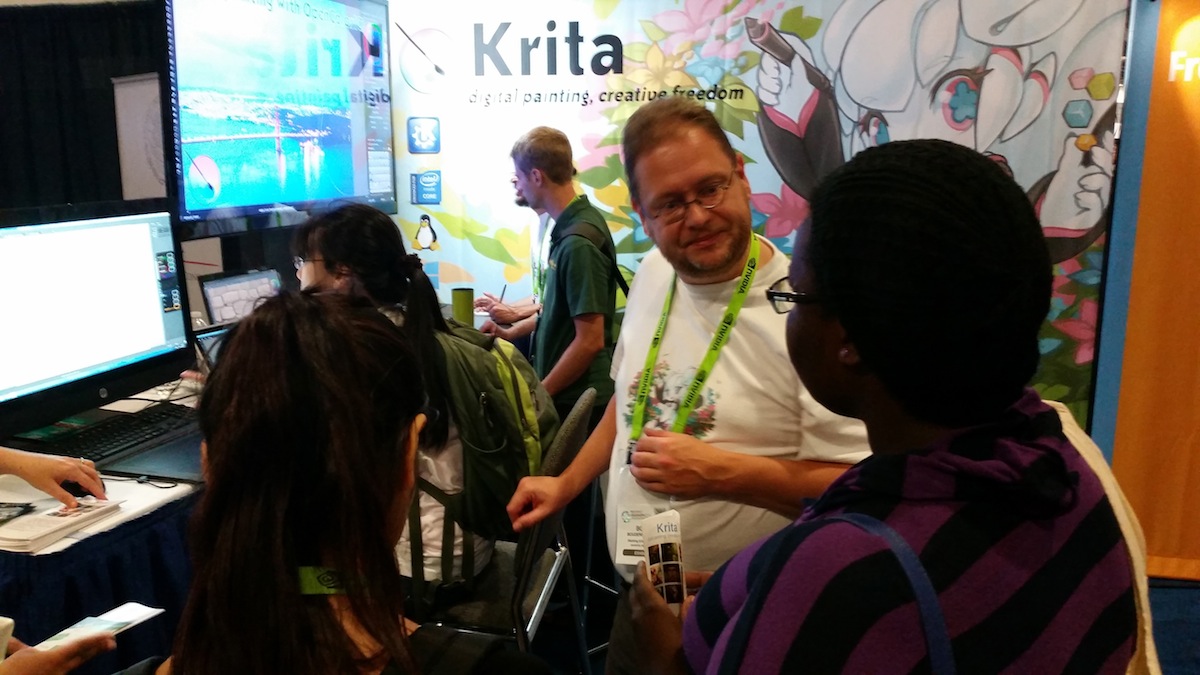 Tradeshow
Having a small booth on the show always works very well to get meetings organized and reach out to many people you would otherwise never meet. Instead of having to hunt for new contacts, they're just dropping by :) Here are my notes and impressions from Siggraph in general.
This year we had a space next to the Krita Foundation – and of course immediately removed the dividing barrier to make it a 30 foot long presentation! Krita is really impressive these days – they're definitely leaving GIMP behind in some areas, becoming the artists' choice, especially for more serious work and productions.
We also had support from HP and CGCookie again this year – making it financially possible to do this presentation. Thanks a lot guys!
We showed OpenSubdiv – and (yes, really) Blender is the first of the 3d tools offering GPU OpenSubdiv in a release. The Pixar folks were very happy with that, and complimented us with the quality of feedback they had (our developer Sergey Sharybin fixed several issues for them).
OpenSubdiv is going to get an important upgrade with 3.0 this year, which will speed up initialization time 5 fold (or better).
Cycles – this is still our flagship project, and there's serious interest from parties to pick this up for their own needs – including evaluation it as in-house rendering engine for vfx. Can't say more about this though…
Several visitors mentioned their interest – or active support – for the Blender 101 project (a release-compatible Blender version configured for learning purposes). Follow-ups with big companies and educational initiatives are being done now – will post about this when things get more tangible.
Path-tracers! Everyone makes ray-tracers these days, and AMD showed proudly their own OpenCL render engine – codenamed "Fire Render" for now. A release date is unknown. According to the AMD contact they would release it under a permissive open source license – maybe even public domain.
The render engine was fast and looked good – but it they mainly showed the obligatory shiny car on a floor with skydome. It's like cycles 2011 – they've got a way to go before it's a production render system (if they ever intend to though).
AMD's OpenCL progress is still fuzzy – but the general message is that we should try to split up the render kernel in smaller parts – graphics cards just don't like it and we might run into similar issues with CUDA sooner than later anyway.
I had a long chat with Khronos' president on this topic too – according to him we shouldn't give up so easily, an industry compatible OpenCL compiler shouldn't have such problems with building Cycles. To be continued…
Meanwhile, Intel had their render engine showing off too – Embree – which showed amazing detailed furry character renders… nearly realtime. On a 'regular' 16 core Xeon! The Intel contact was amazed I hadn't heard of it… but a bit later I learned we use Embree's BVH already in Cycles.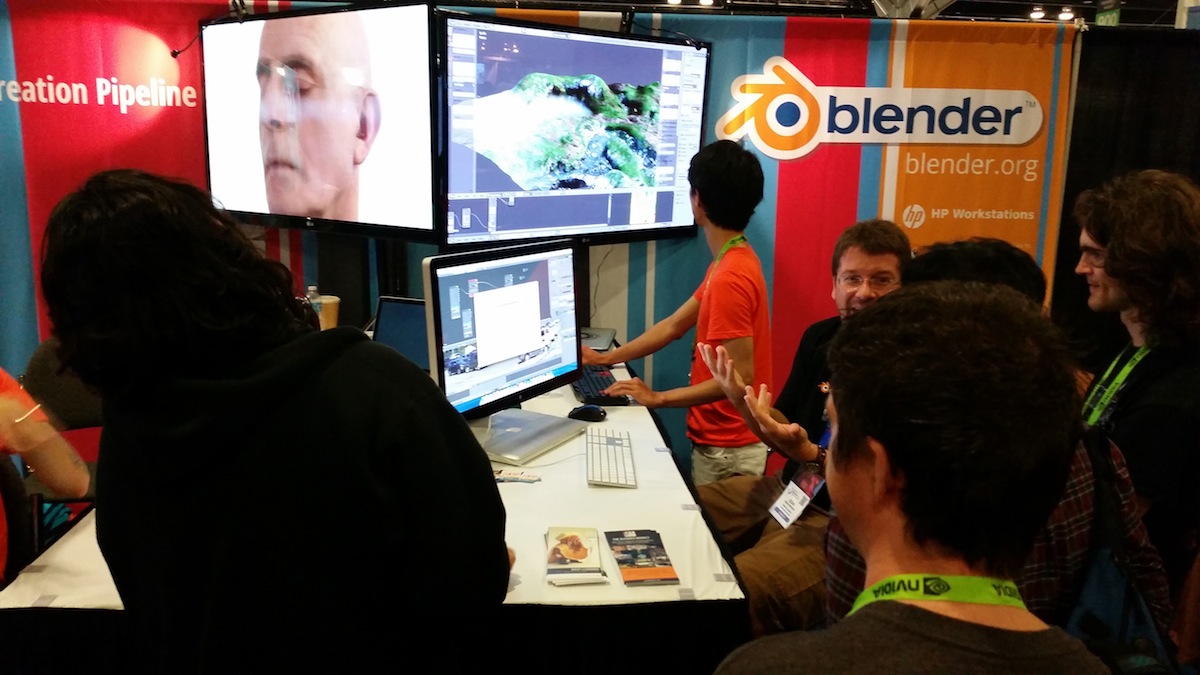 Nvidia is pushing their remote rendering (Grid, "cloud") offering even further – including offering us access to a 15 x 8 gpu system for testing and rendering of final frames for Gooseberry. We'll do followups on that.
Microsoft Developer support walked by – finally a contact to try to get a couple of free MSVC Pro license keys from! First follow-ups have been done now.
Interesting open source compositing project: had a long demo by the lead developer of Natron – extremely promising ("Nuke style") standalone compositor, using the Tuttle and OpenFX plugins. I found OpenFX very disappointing though… no open release should accept this level of crappy overlay watermarks.
The guys from ImageEngine (Neil Blomkamp's fx house) told me they work on an open compositor as well – Gaffer. Had not time yet to inspect this.
X3D – the Web3D consortium walked by with a quite a big delegation. They did a very warm and convincing plea for keeping good support for X3D files ("3d on the web"), and even check on further authoring of interactive 3d content, that can be published on the web efficiently this way. X3D has as a benefit that the display engines (java script webgl or others) can stay separated from the content… just like .html is compatible for all browsers.
Presto! A friendly Pixar employee gave us an extensive demo of the in-house animation tool. Of course it has real-time opensubdiv fur (yep, back to work!). But most amazing I found the Presto workflow, UI concepts and metaphors… it feels all quite familiar (selecting, responsiveness of UI in general). It's a bit like Maya too (but then done well ;), any Blender animator would be really up to speed with Presto in a few hours.
In general – Siggraph was amazing as usual, and Blender's still in the center of the attention for many people, including and steadily growing by the industry. We're doing really good – and the support we had last year from companies (Epic, Valve, Google, Nvidia, HP, …) only helped to show how we as Blender Foundation and as Blender community can keep growing. In small steps, relaxed, by having a lot of fun together, and stay focused on building the best free/open source 3D creation tools for the best of our artists.
Special thanks to everyone who helped out on Siggraph: Sean, Jonathan, Wes, Mike, Francesco, Patrick, David, Joseph and Oscar!
And special thanks for the sponsors who made the presentation possible: CGCookie, HP Workstations and the Media Programme of the Europen Union.
Ton Roosendaal
August 28, 2014