During the Christmas holidays of 1993, Ton Roosendaal started working on the Blender software, based on original designs he made in the course of 1993. On January 2nd, 1994, the first Blender version was running, with the subdivision-based windowing system working.
The memorable date –now marked as Blender's official birthday– is defined by an old backup of Ton's SGI Indigo2 workstation.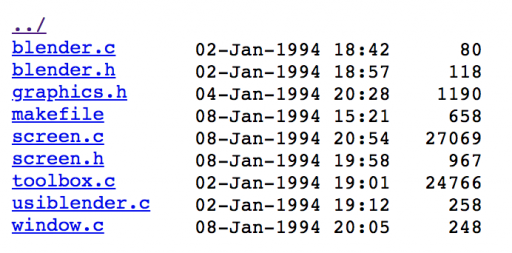 After the first files were created, it took 15 months before the software was ready for production as in-house tool in the animation studio NeoGeo in the Netherlands. Blender was then released publicly online on January 1st 1998 as SGI freeware. The Linux and Windows versions were released shortly after.
After the Internet bubble burst in the early 2000s, the source code became available under GNU GPL on October 13th 2002, thanks to a spectacular fundraising campaign – marking the start of Blender as the popular Free and Open Source 3D creation suite it is today.
Backup of 1994
Memory lane