Blender brings cult comic Agent 327 to life in 3D animation
The studio of Blender Institute releases ambitious three-minute teaser for full-length animated feature based on Dutch artist Martin Lodewijk's classic comics
Amsterdam, Netherlands (May 15, 2017) – It has created a string of award-winning shorts, raised over a million dollars in crowdfunding, and helped to shape development of the world's most popular 3D application. But now Blender Institute has embarked on its most ambitious project to date. The studio has just releasedAgent 327: Operation Barbershop: a three-minute animation based on Martin Lodewijk's cult comics, and co-directed by former Pixar artist Colin Levy – and the proof of concept for what it hopes will become a major international animated feature created entirely in open-source software.
Watch it here: http://agent327.com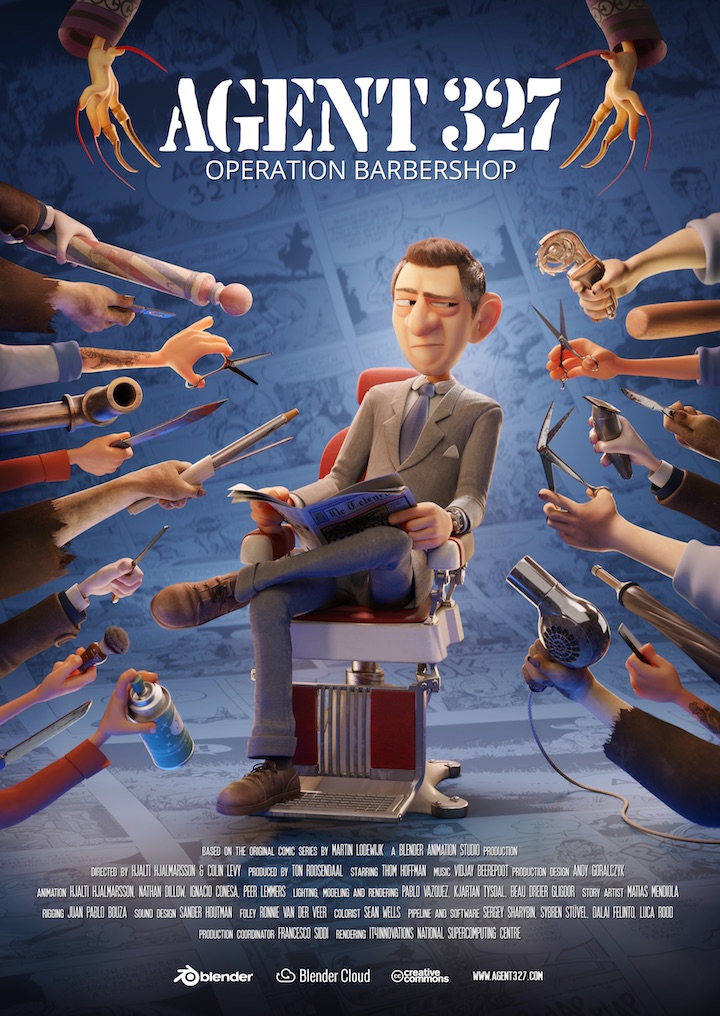 A history of award-winning open movies
Since its foundation in 2007, Blender Institute has created eight acclaimed animated and visual effects shorts, culminating in 2015's Cosmos Laundromat, winner of the Jury Prize at the SIGGRAPH Computer Animation Festival. Each 'open movie' has been created entirely in open-source tools – including Blender, the world's most widely used 3D software, whose development is overseen by the Institute's sister organization, the Blender Foundation.
Assets from the films are released to the public under a Creative Commons license, most recently via Blender Cloud, the Institute's crowdfunding platform, also used to raise the €300,000 budget for Agent 327: Operation Barbershop.Based on Martin Lodewijk's cult series of comics, the three-minute movie teaser brings the Dutch artist's underdog secret agent vividly to life.
Creating a cult spy thriller
"Agent 327 is the Netherlands' answer to James Bond," said producer Ton Roosendaal, original creator of the Blender 3D software. "He's fighting international supervillains, but the underfunded Dutch secret service agency doesn't have the resources of MI6. Rather than multi-million-dollar gadgets, he has to rely on his own resourcefulness to get things done – and in the end, he always pulls it off. To me, that also reflects the spirit of Blender itself."
Created by a core team of 10 artists and developers over the course of a year, Operation Barbershop sees Agent 327 going undercover in an attempt to uncover a secret criminal lair. Confronted first by the barbershop's strangely sinister owner, then his old adversary Boris Kloris, Agent 327 becomes embroiled in a life-or-death struggle – only to confront an even more deadly peril in the shop's hidden basement.
Translating a 1970s comic icon into 3D
A key artistic challenge on the project was translating the stylized look of the original 1970s comics into 3D. "Agent 327 doesn't really fit the mainstream design template for animated characters," says Blender Institute production coordinator Francesco Siddi. "His facial features are designed and exaggerated in a very Europan way. How many Disney movies do you see with characters like that?"
For the work, the Institute's modeling and design artists, led by Blender veteran Andy Goralczyk, carried out a series of look development tests. Concept designs were created in open-source 2D painting software Krita, while test models were created in Blender itself, and textured in GIMP.
Another issue was balancing action and storytelling. Although a richly detailed piece, Operation Barbershop isn't a conventional animated short, but a proof of concept for a movie. It's designed to introduce Agent 327's universe, and to leave the viewer wanting more. To achieve the right mix of narrative and exposition, Colin Levy and co-director and lead animator Hjalti Hjálmarsson ping-ponged ideas off one another, mixing animated storyboards, live action, and 3D previs.
Building an open-source feature animation pipeline
As with all of the Institute's open movies, technical development on the project feeds back into public builds of Blender. In the case of Operation Barbershop, the work done on Cycles, the software's physically based render engine – which now renders scenes with hair and motion blur 10 times faster – was rolled out in Blender 2.78b in February. Work on Blender's dependency graph, which controls the way a character rig acts upon the geometry of the model, will follow in the upcoming Blender 2.8. "For users, it's going to mean much better performance, enabling much more complex animation set-ups than are possible now," says Siddi.
Other development work focused on the Blender Institute's open-source pipeline tools: render manager Flamenco and production-tracking system Attract. "The pipeline for making shorts in Blender is already super-solid, but we wanted to build a workflow that could be used on a feature film," says Siddi. "Operation Barbershop was great for identifying areas for improvement, like the way we manage asset libraries."
Joining Hollywood's A-list
For the Agent 327 movie itself, the Blender Institute is establishing Blender Animation Studio, a separate department devoted to feature animation, for which it aims to recruit a team of 80 artists and developers from its international network. To help raise the film's proposed budget of €14 million, the Institute has signed with leading talent agency WME, which also represents A-list Hollywood directors like Martin Scorsese, Ridley Scott, and Michael Bay.
"Blender Animation Studio is devoted to producing feature animation with world-class visuals and storytelling, created entirely in free and open-source software," says founder and producer Ton Roosendaal, "We've proved that Blender can create stunning short films. Now we aim to create stunning features, while building and sharing a free software production pipeline."
Although the Agent 327 movie isn't the first film to be created in Blender – a distinction that belongs to 2010 Argentinean animated comedy Plumíferos – it will be by far the largest and most ambitious, and one that the Blender Institute hopes will revolutionize feature animation.
"As an independent studio, we're in the unique position of being in complete control of the tools we use in production," says Roosendaal. "That's a luxury enjoyed only by the world's largest animation facilities. We intend to create movies that redefine the concept of independent animated feature production."