The following article is based on the original released by Engadget Japan.
"We finally got a 3D creation tool like paper and pencil"
The reason why Khara, Inc. started moving to Blender.
Khara, Inc. is known as Hideaki Anno's motion picture planning and production company. They are currently working on "EVANGELION:3.0+1.0", film to be released in June 2020.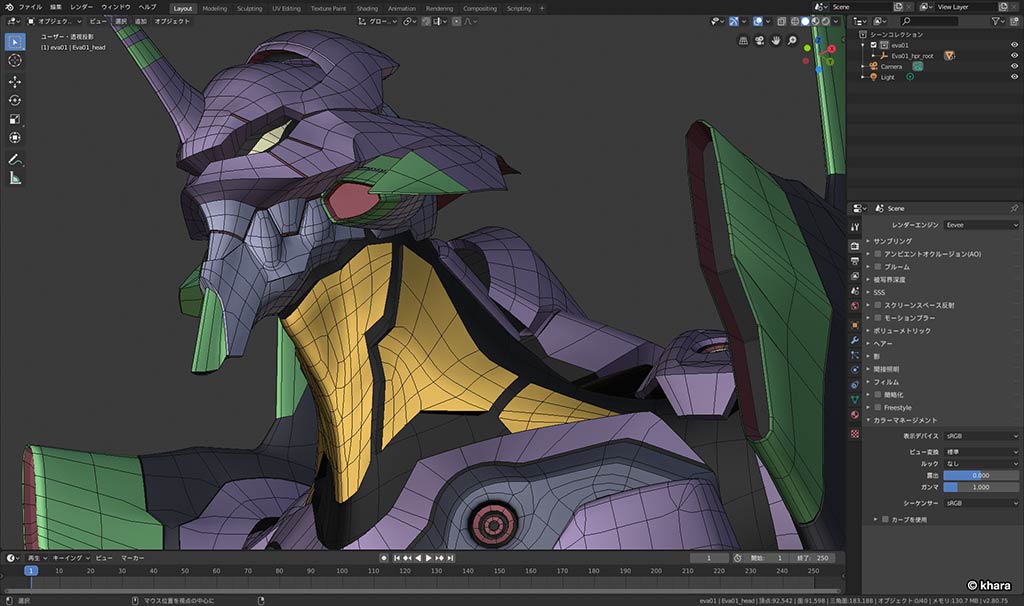 Khara announced on July 30th, 2019: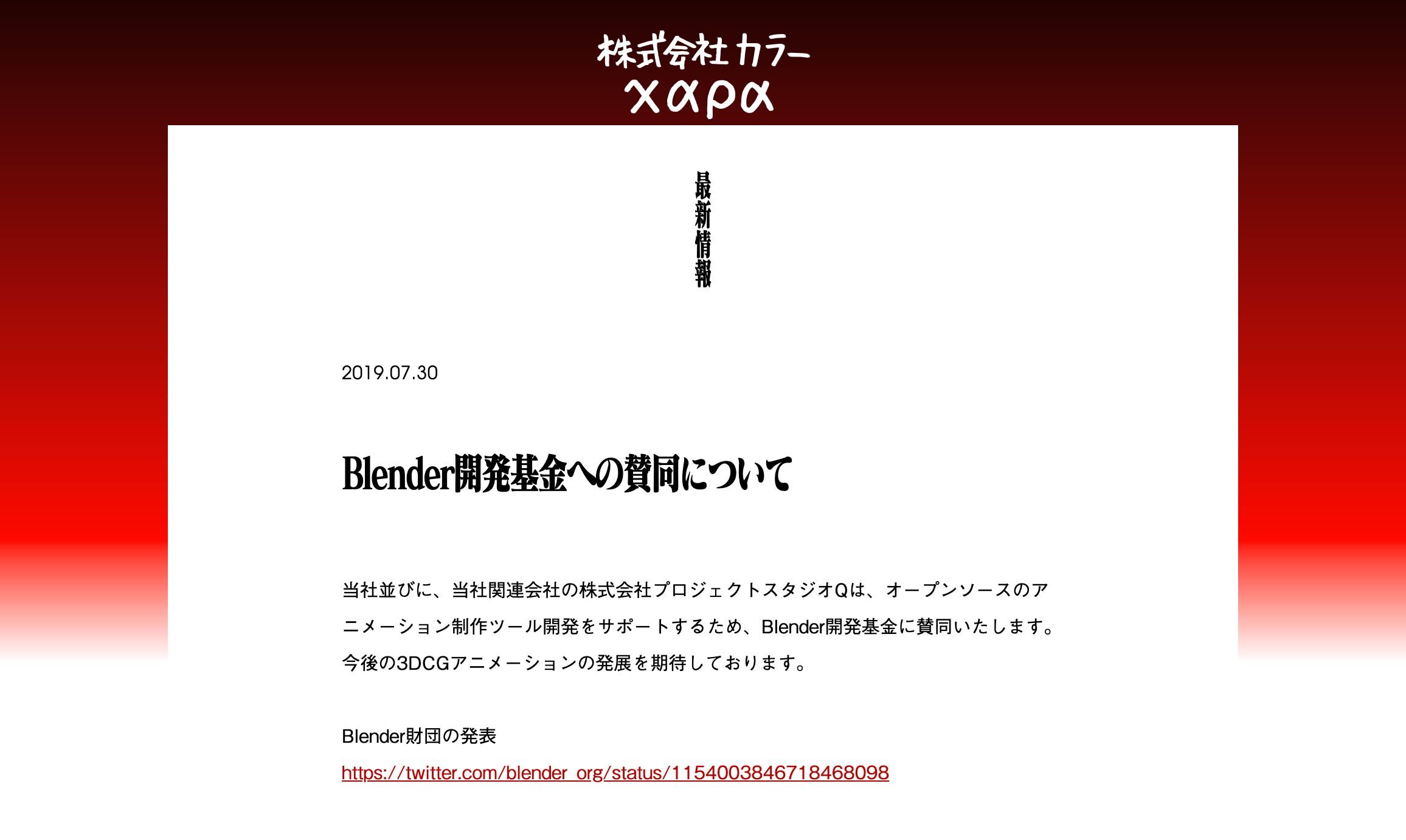 It was titled "Supporting Blender Development Fund", announcing that they support Blender Foundation on developing the open source 3D creation software "Blender".
Of course, it was not only a story of funding.
Khara and Anime/CG production company "Project Studio Q, Inc." are preparing to switch their primary 3D CG tools to Blender. Blender will be used for some parts of "EVANGELION:3.0+1.0" they are currently working on.
Why is Khara moving to Blender?
"Tool cost" challenges to Anime production.
3D CG is essential to modern Anime productions. Not only the so called "animation films" such as those from Pixar and Dreamworks, but it's now common for 3D CG to be used in many Anime films. 3D CG and hand-drawing make a great combination that improves productivity and quality of Anime.
Khara is a company focusing on a "hybrid of 3D CG and hand-drawing". They are currently working on "EVANGELION:3.0+1.0" with the same policy. They also founded "Project Studio Q, Inc." in 2017, a company focusing mainly on the movie production and the training of Anime artists as the joint venture with Dwango Co., Ltd. and Aso College Group.
Khara has been using Autodesk "3ds Max" as their primary tool so far. "EVANGELION:3.0+1.0" production is mainly done with 3ds Max. They are now starting to switch from 3ds Max to Blender. Usually the reason being "due to differences such as quality and functionalities", but Khara's reason is different.
Hiroyasu Kobayashi, General Manager of Digital Dpt. and Director of the Board of Khara and President of Studio Q, and Daisuke Onitsuka, CGI Director of Digital Dpt. of Khara and General Manager of Production Dpt. of Studio Q, told about their situation.
"Simply, the project scale got bigger than what was possible with 3ds Max."
– Hiroyasu Kobayashi

"We need more production resources from outside, not only from Studio Q. We need cooperative work with friend companies for our production. However, many of those companies are small or middle-sized, so if we stick to 3ds Max it will cause higher management costs."
– Daisuke Onitsuka

You may need a bit further explanation about this.
3dx Max is offered by Autodesk on subscription fee basis, this fee is expensive. According to Autodesk's website, an annual fee for a single user is JPY 254,880. It is expensive still when they offer discounts for multiple users and years. A large company can absorb this cost with a number of users as it has large revenue. But it turns out to be difficult to recoup those costs of 3ds Max for all users in a company of 20-30 people size.
Different tools are used depending on the studios and works in Anime production. Productivity decreases unless they use the same tools and assets (materials such as models, animation data, etc.). Due to this, they tend to work with companies that use the same tools.
3ds Max is an excellent tool and one of the industry standards, but in some cases it causes a "lack of artists" due to its high costs.
In the past, Khara thought of moving to "Maya" which has as many users as 3ds Max in the industry. "We worked with data prepared for both 3ds Max and Maya, for Maya users." said Onitsuka. But resulted in a duplication of work resources to have the same data twice. Now, Blender attracted their attention.
Onitsuka: "As a matter of course, we can produce with the same quality and schedule to maximize the efficiency of our limited budget. Blender is an open source software and available for free. Also, it has almost the same functionalities with other software, so it was undoubtly attractive to us. While we still have the challenge whether a new partner company can use Blender or not, but at least, cost-wise is much simpler, so we are proposing them to use Blender as we use it."
No lack of functionalities are blocking the switch. In fact, "Grease Pencil" was key to make the move.
Of course they can not switch the tools if a new tool is lacking functionalities for production. Blender's reputation has been "for beginners" or "for students" because it was free software. However, the latest version has more functionalities and the difference between Blender and other tools is getting smaller.
Khara had started thinking of the use of Maya 3 years ago, and also about Blender right after that.
Kobayashi: "We have been watching on it and got the feeling that we can use it as our primary software. Discussing with Onitsuka, we decided that we may be better to use Blender as our primary tool than to use various software in the future."
Takumi Shigyo at production dpt. of Studio Q, has been using Blender also for private use. He is a top "Blender wizard" at Khara and Studio Q. Artists like him helped Khara's decision to move to Blender. Shigyo spoke about Blender as follows.
"I feel the latest Blender 2.8 is intentionally 'filling the gap' with 3ds Max to make those users feel at home when coming to Blender. I think the learning curve should be no problem."
– Takumi Shigyo
Grease Pencil
And there was a key functionality that brought Khara to Blender as production studio of "2D Anime works". It was "Grease Pencil".
You can draw lines in 3D space directly with a pen, and not only by making 3D models but you can also draw extra details in the animations themselves.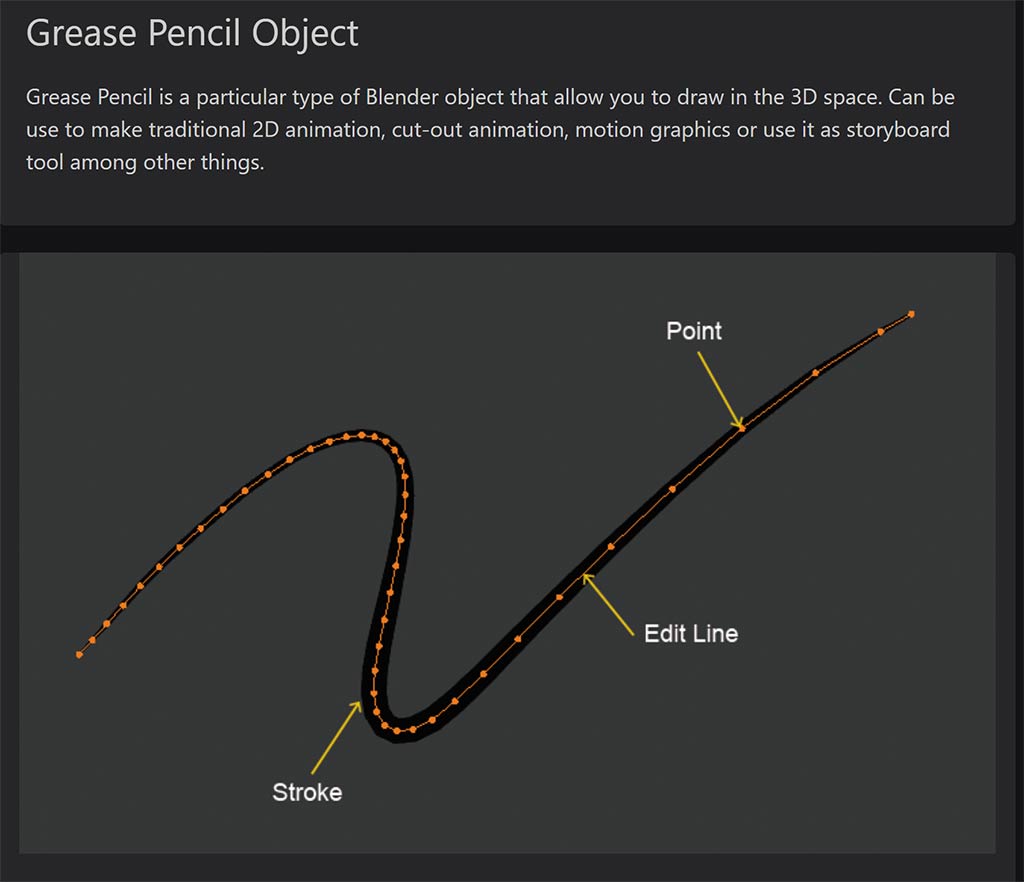 Onitsuka: "As for our work, we create an image in 3D, and modify it into each frame as '2D Anime'. Even a chief animation director directly modifies each frame manually. We also even add shadows with tools like After Effect afterwards. For example, if we wanted a more sharp elbow in a character, we had to modify the 3D model and insert custom rigs (skeleton) into them. This was time consuming. But Blender enables us to draw with Grease Pencil after the animation is finished. It may not be the way for photo-real CG but it's a good way for 2D Anime. This helps reducing rigging costs."
"More animators who are not from 3D are choosing Blender as a 'steppin-up' tool not only because it is free software but because of Grease Pencil. This is an important factor for our decision."
– Hiroyasu Kobayashi

Studio Q is also a facility for training new animators. They are hosting a contest for creators "Award:Q", more and more candidates are using Blender nowadays.
Shigyo: "We are getting more artists that started by using Blender in Studio Q. We are also seeing more high quality works by Blender users from high school students in Award:Q. I expect these new generations to be the majority working at studios in the future."
Cooperation with Blender Foundation to be a leading user in the Japanese Anime industry.
As mentioned, Khara uses Blender, not only the software itself but also helps the Blender Foundation by joining the Development Fund as a corporate member.
Masahiro "Rocky" Iwami, Production Manager of Digital Dpt. of Khara and General Manager of Overseas Dpt. of Studio Q, who is the primary contact person with the Foundation, said "We had no special relationship with Blender Foundation before this".
Iwami: "We had the contact information of Foundation chairman Mr. Ton Roosendaal, on their website. We got in touch with him from there. It was lucky that the name of 'Evangelion' attracted his attention. He kindly replied back to us immediately. We were glad to know that he thought the news that Japanese Anime companies using Blender was important for both of us. We became the first, leading player in Japanese Anime industry. As a corporate member of the Blender Development Fund, we are expecting our proposals may be closer to the development team. We would like to get closer with the Blender developers community."
One of the advantages of Blender is being open source, anyone can develop and add their own functionalities to Blender. Regarding this, Kobayashi said "Development details are to come".
Onitsuka: "Please understand that we are keeping a good relationship with Autodesk. Not only with Autodesk but also with other companies, we keep requesting improvements. However, it takes time for those improvements to make it to proprietary software. We expect faster improvements by using open source software."
The full switch will take place after "EVANGELION:3.0+1.0", but Blender is already used in it.
Some people may think "EVANGELION:3.0+1.0" can be made by Blender from the beginning. But pipelines do not switch that fast in reality.
Kobayashi: "Preliminary testing has been done already. We are now at the stage to create some cuts actually with Blender as 'on live testing'. However, not all the cuts can be done by Blender yet. But we think we can move out from our current stressful situation if we place Blender into our work flows. It has enough potential 'to replace existing cuts'."
Onitsuka: "We will be working on 'EVANGELION:3.0+1.0' until June 2020, so all the process cannot be changed before that. But we think we can say that 'we use Blender from this time onwards' for the next project. We would like to use and test Blender aggressively in our current 'EVA' for the ongoing year."
Kobayashi: "There are currently some areas where Blender cannot take care of our needs, but we can solve it with the combination with Unity. Unity is usually enough to cover 3ds Max and Maya as well. Unity can be a bridge among environments."
Onitsuka: "Hand-draw animators can start drawing only with paper and pencil. Just like that, 3D CG animators can start creating only with Blender at the same level cost with 'paper and pencil'. We already started speaking to partner companies 'let's use Blender together'. We are just starting now but high quality work Blender can be the best proof that our choice is the right one. What shows our value is the pictures we make, not the techniques and technologies. We want to share the know-hows with studios so that the Blender community will grow through those."
Translation provided by Masahiro "Rocky" Iwami.
---
Blender開発基金への賛同について https://t.co/mU4V9oGqC1

— 株式会社カラー (@khara_inc) July 30, 2019
発表の通り、弊社でもBlender開発基金へ賛同いたしましたことをご報告します。 https://t.co/ucIcjcYwWB

— プロジェクトスタジオQ (@Project_StudioQ) July 30, 2019