Makuta Visual Effects is an Indian visual effects and animation company based in Hyderabad, India. They migrated the majority of their pipeline to Blender in 2019 with one or two scenes in a feature called Gang Leader. Pete Draper, CEO and Co-Founder of MakutaVFX, shares some insights in the usage of Blender during the production of the epic action drama RRR.
A long-time 3ds Max user, Makuta adopted Blender as primary 3D creation tool during the production of the VFX for RRR. As one major introduction scene had been delivered and signed off by the client, thanks to the Cycles for Max port of the Cycles renderer for 3ds Max, we decided the time was right for the transition around November 2019. Since then we delivered 700 shots for the RRR feature with our work being the prominence in the international trailer.
Blender was used in our entire pipeline aside from the FX department, from asset production through to final 3D rendering, primarily utilising 2.83, culminating in 2.92.
Police Station Fight
For this sequence, most 3D work, including LiDAR scan processing, a fair amount of pre and post-viz, was done with 3ds Max, but rendered using the Cycles for Max plugin. We changed our pipeline to Blender shortly after delivering that scene.
Komaram Bheem song
In the Komaram Bheem song sequence, all exterior Scott's Palace scenes –basically all street shots outside the palace gates including side streets– were created in Blender.
Intermission Fight
For the intermission fight sequence (and all shots before the animal attack), the palace and seating stand assets were produced by a 3rd party and brought into the Blender pipeline, re-lit and shaded in Blender. Crowd assets were create with Blender along with foliage. Fireworks are 3ds max. FG gate was created in Blender and sent to the 3rd party for their shots in the same sequence (those involving animals).
Blender helped up with the sheer volume of asset builds and the ability to randomise materials without having to create new ones which were essential for building and foliage distribution. We heavily leaned on Geometry Nodes for our foliage distribution systems, building stuff down at the granular level and then randomising the distribution based on rules, proximity and topography which helped drive the aesthetic.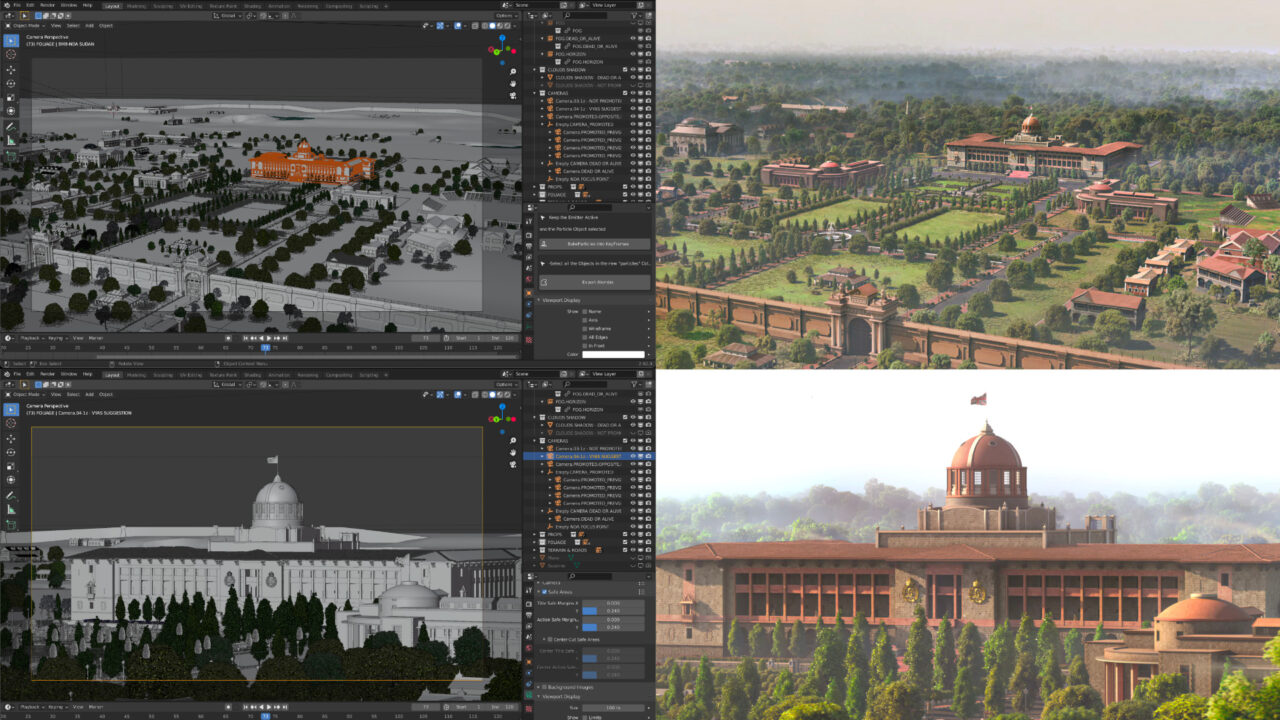 The ability to dial this down and make global corrections to assets with everything flowing downstream was essential for us, as the client needed to see regular progress on higher-end shots. So as assets (et al) were being built, we could start throwing stuff across to comp to have a pre-final. This way the client could see how things were going as soon as possible.


The volumetric system allowed us to drop sims in, set the basic parameters and just forget it so scenes like the large compound establishers and the forest gunfire / explosions were easily set up, despite them taking a while to render!
You can find Pete Draper and MakutaVFX on social media.