Blender Conference was again a memorable gathering of the Blender community, and it keeps getting better! With a similar number of attendees and the same location as last year, we could fine-tune some organizational aspects and make the event smoother.
You can enjoy all the recorded presentations on the YouTube channel, and on Blender's PeerTube.
Feedback for the event was overall positive, with improvements compared to last year.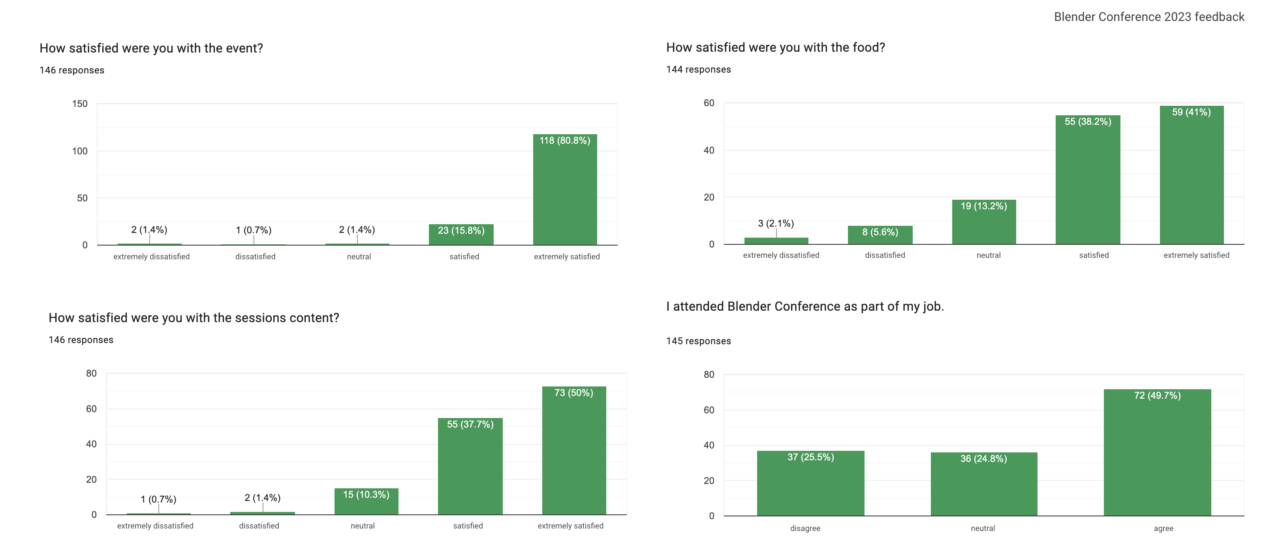 Credits
The event was made possible thanks to the contribution of many people and made memorable thanks to all attendees and speakers. Thank you!
BCON23 Sponsors: FAB, Otoy, Ranch Computing, Render Street, CGGE and Krystal Institute, Blender Market, Polygoniq, Khronos Group and Next Lab
Amerpodia and Felix Meritis staff
Anja and Anne – Merch store
Fiona Cohen – Speaker management, coordination, and hosting the Suzanne awards
Jelmer de Haas – Photography
Rik Schutte, Hjalti Hjalmarsson and Pablo Fournier – Photography posers
Faber – Theater projection and video recordings
HOAX design – Identity, program and graphics
Haru Legouge, Maaike Kleverlaan, Beau Gerbrands, Nick Alberelli for filming the daily recaps and interviews
Beau Gerbrands – Animation festival graphics
Thomas Dinges – Lightning talks
Marit Stüvel, Sandra Denningmann, Pablo Fournier, Andy Goralczyk – Merch store support
Arnd Marijnissen, Sebastian Parborg and Nick Alberelli – IT systems
Pablo Vazquez the Blender Conference website
Demeter Dzadik, Dalai Felinto, Rik Schutte, Inês Almedia – Video processing
Sergey Sharybin – Reception and venue screens management
Bastien Montagne, managed the logistics of the event, and the recording and upload
All of the speakers!
Francesco and Ton – Production
Enjoy this impressions video edited by Haru:
See you next year to celebrate Blender's 30th anniversary!
Francesco