At long last, the Blender event of the year happened again! Things have changed quite a bit since BCON19. The incredible growth of Blender and its community have made it possible to have yet another "best Blender Conference ever".
With over 700 attendees and almost 100 presentations spread over five parallel tracks, the amount and quality of content was unprecedented. You can enjoy all presentations on Blender's YouTube channel or at video.blender.org.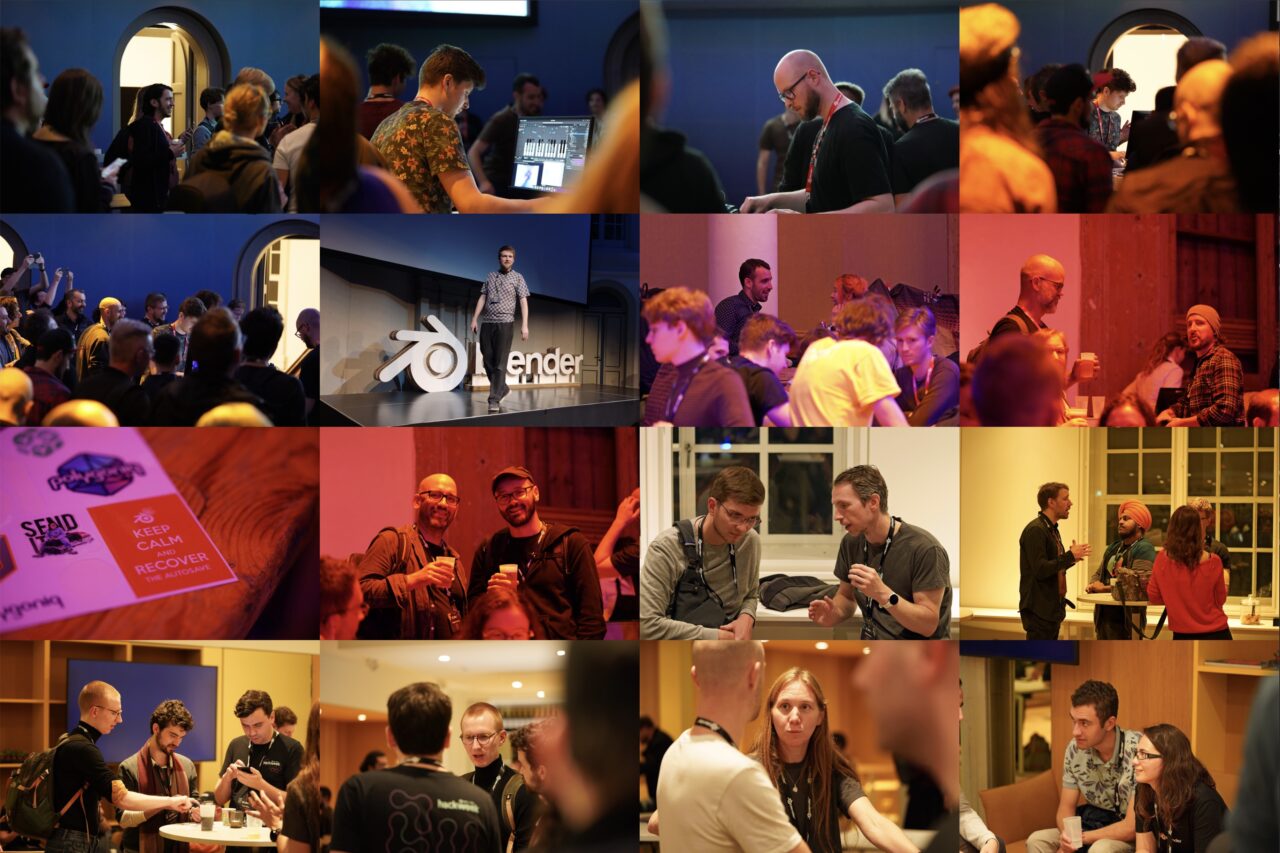 The new venue, Felix Meritis, proved to be a great space for most activities, and the catering for lunch and dinner was highly appreciated.
Special thanks to all attendees who provided suggestions through the feedback form! While the rating for the venue, sessions, and overall vibe of the event was very positive (check figures) there are several ideas on how to improve things further for the next edition.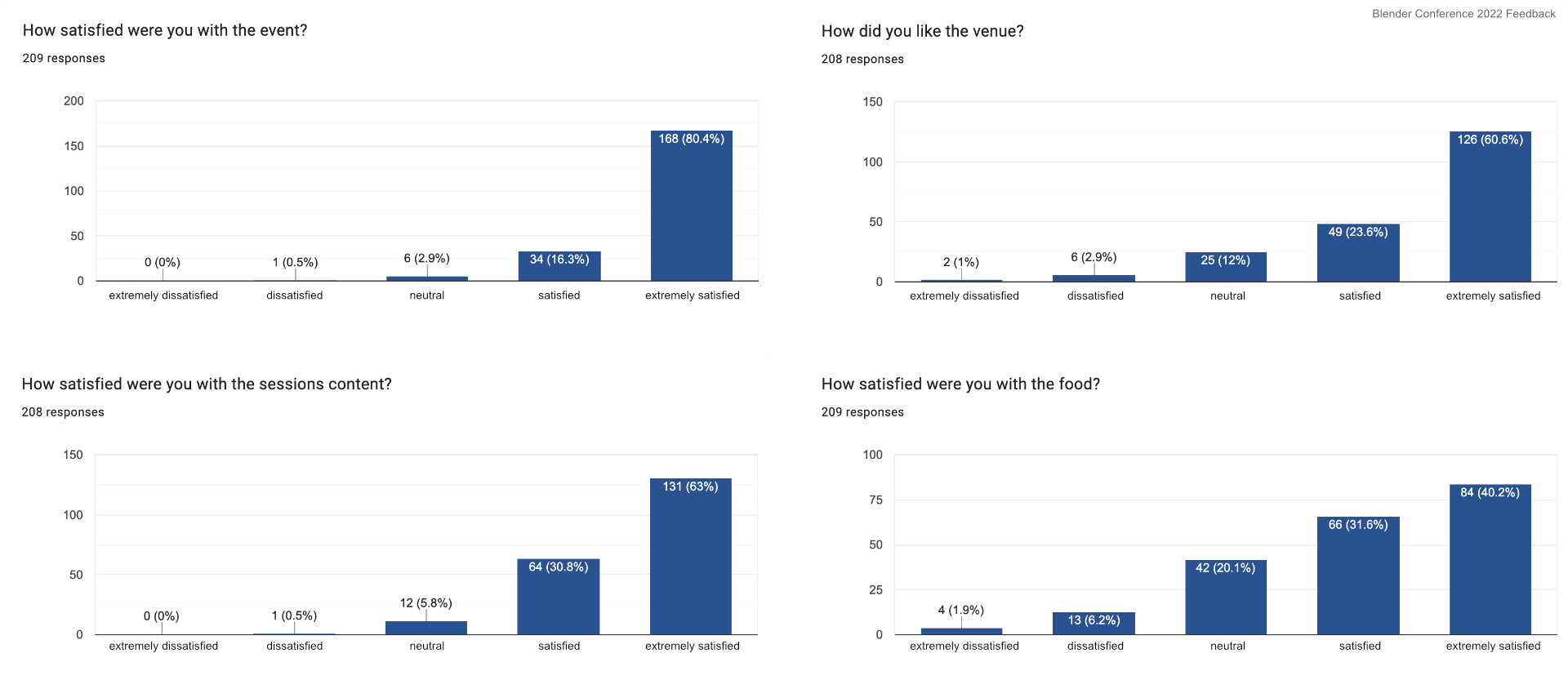 Credits
Special thanks to everyone who took part in the organization of the event before and while it was happening. You made this possible!
BCON22 Sponsors: Intel, Coreweave, Sketchfab, Render Street, Protocube, Chocofur, Comovid
Anja Vugst-Verstappen – Ticketing and store management
Andy Goralczyk, Simon Thommes and Pablo Vazquez – BCON22 artwork
Philipp van Ekeren – Conference booklet
Clement Piot – Blender logos at the entrance and Theater stage
Pablo Vazquez – Website experience, podcast management
Beau Gerbrands – Suzanne Awards identity and video processing
Anna Sirota – Website experience, video processing pipeline, venue screens management
Andy Goralczyk and Simon Thommes – Audiovisual show
Marit Stüvel, Pablo Fournier, Simone Eggengoor – Sponsors support, check-in desk and shop
Arnd Marijnissen – IT systems
Hannah Umit, Menno Hageman, Tess Fischer – Video processing and general support
Thomas Beck – Lightning talks
Bastien Montagne, Sergey Sharybin – Logistics and coordination
Jelmer de Haas – Photography
Daan van den Berg – Video recaps and interviews
Faber – Theater projection and video recordings
The staff and catering service of Felix Meritis
All of the speakers!
Francesco and Ton – Production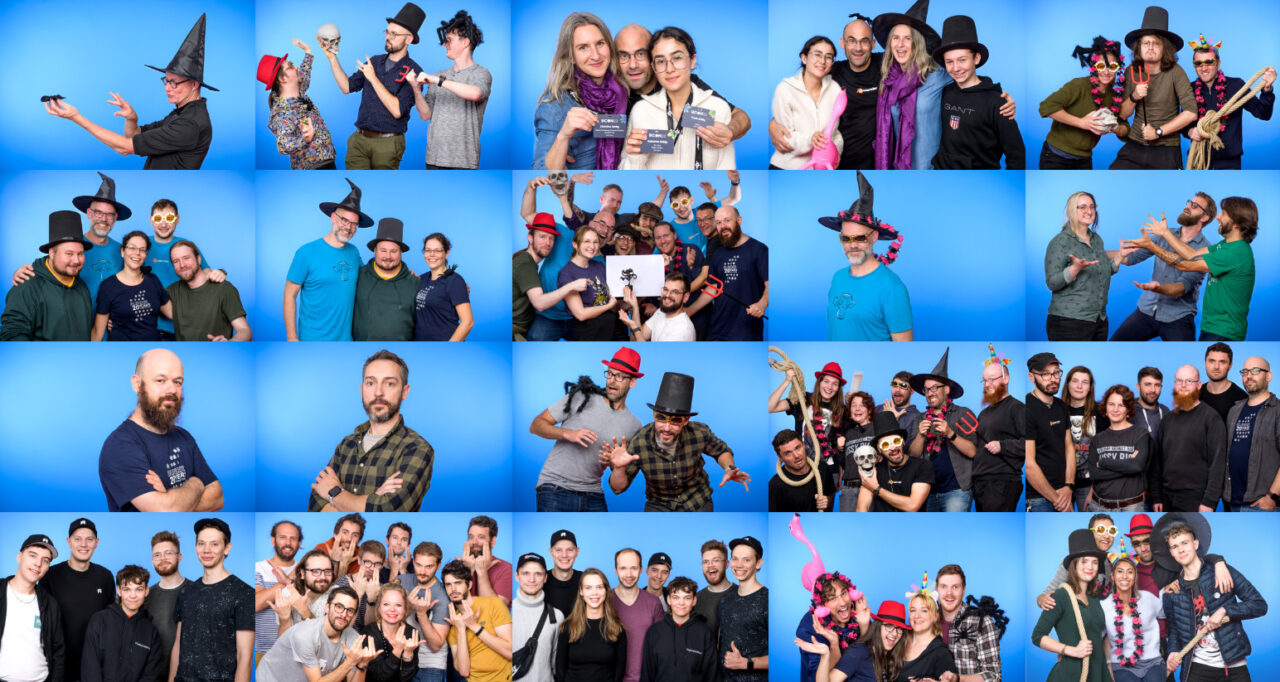 Enjoy this recap video for the event, and see you next year!